New Report Recommends Courtroom Efficiency Strategies for Judges, from Judges
For over 75 years, American civil courts have operated under rules intended to "secure a just, speedy, and inexpensive" resolution of cases. In far too many courts around the country, though, the system is falling short of this promise, with cases taking too long to resolve and costing too much. As a result, the public's access to justice, our courts, and the legal system is limited at both the state and federal level. Judges are in a unique position to make a difference and to mitigate these issues by actively managing their cases.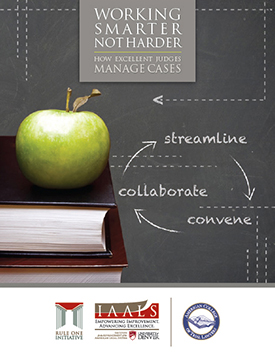 IAALS—the Institute for the Advancement of the American Legal System at the University of Denver—has released a new report, in conjunction with the American College of Trial Lawyers (ACTL), that highlights key civil case management techniques for judges that have the potential to streamline litigation in their courtrooms, especially the pretrial process.
Working Smarter, Not Harder: How Excellent Judges Manage Cases documents the recommendations and key practices of nearly 30 state and federal trial court judges, from diverse jurisdictions nationwide, who were identified as being outstanding and efficient case managers. In their own words, these judges share their strategies in hopes that their experience can serve as a model for other judges who want to replicate their success, to the benefit of the parties who appear before them.
Working Smarter, Not Harder allows judges, no matter their experience level, to learn from one another—a rare opportunity, especially between courts on a national level. As IAALS Executive Director and former Colorado trial judge and supreme court justice Rebecca Love Kourlis explains, "for a sitting judge, it can be difficult to observe others on the bench and exchange ideas in terms of effective and efficient case management techniques. Filling this gap, Working Smarter, Not Harder offers civil trial judges a qualitative look at the successful case management practices that their peers are using to ensure a just, speedy, and inexpensive process."
Lawyers will also benefit from learning the techniques outlined in this report, which can help them to work more efficiently with judges and opposing counsel, and ultimately to better serve their clients. "This concise, readable guide to the best pretrial practices will also be of great value to lawyers," says Chilton Varner, Immediate Past President of the ACTL. "Good judges frequently invite good lawyers to partner with them in finding better ways to streamline case management. This report is filled with informed suggestions that have emerged from actual courtroom practice."
The report can be downloaded from IAALS at iaals.du.edu/workingsmarter and is also available under the ACTL Highlights.