A Parent's Guide to Understanding the Effects of Conflict and Divorce
April 3, 2019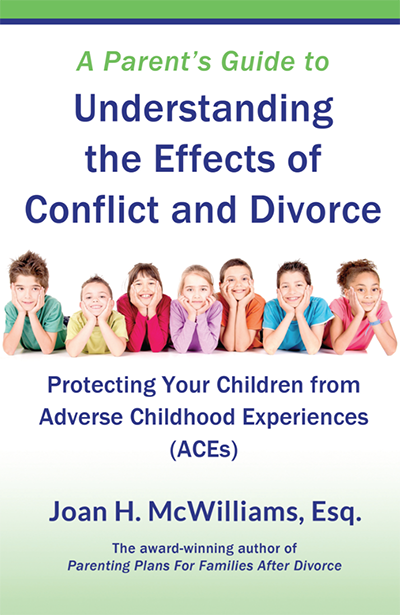 Divorce is a highly stressful experience for all those involved, but the impacts on children can be especially profound. A Parent's Guide to Understanding the Effects of Conflict and Divorce is a new, must-read resource for parents at any stage of the divorce process—whether they are simply contemplating divorce, in the middle of the legal process, or working on co-parenting afterward. Author Joan McWilliams leverages her experience as a long-time attorney and mediator, and founder of McWilliams Mediation Group, to equip parents with essential information about the effects of conflict and divorce on children.
In addition to helping parents understand and appreciate how conflict through divorce can hurt their children, A Parent's Guide to Understanding the Effects of Conflict and Divorce provides parents with valuable tools for helping their children through the incredibly stressful divorce process, and beyond. For example, McWilliams explains how trauma-informed care/counseling can benefit children experiencing divorce. McWilliams also provides tips for how parents can increase resiliency in children—equipping them with the skills necessary to manage future stresses in a healthy and productive manner.
A Parent's Guide directly addresses the realities at the heart of IAALS' work in family justice: that existing processes and procedures for divorce, separation, and custody matters can be more responsive to the needs of children, parents, and families.
Fifty percent of the net proceeds from the sale of the book will be donated to IAALS.
Joan McWilliams is an experienced lawyer and mediator with more than 30 years of experience helping families in Colorado and nationally. Her Denver-based firm, McWilliams Mediation Group, helps families design innovative solutions to complex divorce challenges. McWilliams has been a long-time friend of IAALS and has participated in many of the organization's family justice efforts, including the national Family Bar Summit.