Penn Law's Future of the Profession Initiative Has an Eye Toward Change
November 7, 2019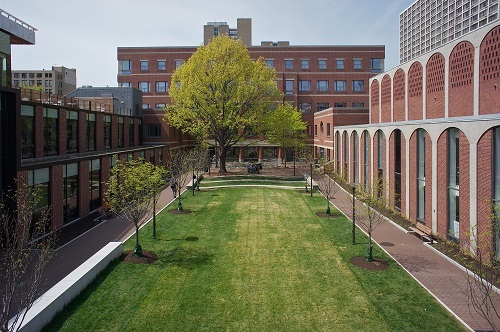 Last month, the University of Pennsylvania Law School announced the launch of their Future of the Profession Initiative. The initiative aims to "Teach, Lead, and Transform" by looking at ways law schools can "adopt a holistic vision" for the formation of lawyers, both during law school and on through their careers. Jennifer Leonard, Chief Innovation Officer and the initiative's executive director, says that Penn Law is "uniquely situated to host forward-thinking and creative minds to develop new models and tools that will reduce disconnects in the legal system, and by extension, will grow access across the income spectrum to better serve all clients."
The initiative has developed several upcoming events and projects, including:
A "Five-Year-Out Academy" to support the career acceleration of Penn Law graduates
A Dean's Innovation Prize competition to support the most innovative ideas in legal services delivery
A "Future of the Profession" symposium that will bring together thought leaders from both the legal and other industries
An entrepreneurs-in-residence program
The launch of a podcast featuring conversations about change
Some common themes throughout the aforementioned events and projects are creativity, resourcefulness, and a refusal to limit thinking to conventional or even traditional mindsets. In IAALS' Foundations for Practice project, our research team asked more than 24,000 lawyers from all 50 states to identify the skills, professional competencies, and characteristics new lawyers need in order to be successful in their careers. Some of the responses as to what new lawyers need right out of law school may seem familiar:
74.8 percent said they need to show initiative
61.8 percent said they need intellectual curiosity
58.6 percent said they need to enjoy overcoming challenges
58.1 percent said they need to learn and use relevant technologies effectively
57.6 percent said they need to demonstrate resourcefulness
The qualities listed above—intellectual curiosity, a love for overcoming challenges, resourcefulness, etc.—are all present in the Future of the Profession Initiative. In order to come up with not just new, but potentially groundbreaking ideas, law students must be given a chance to flex their creative muscles, tackle complex problems, and keep up with ever-changing technologies.
It's evident that, with this new initiative, Penn Law has an eye toward the future—a future that includes a new generation of professionals entering the industry, technology that's evolving rapidly, and significant changes to the way the legal system is regulated.