Pennsylvania Adds Recusal Rule to Code of Judicial Conduct
January 23, 2014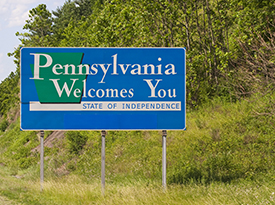 For the first time in more than 40 years, the Pennsylvania Supreme Court has amended its Code of Judicial Conduct. Among the new rules is a provision that requires judges to recuse themselves from hearing cases where "the judge knows or learns that a party, a party's lawyer, or the law firm of a party's lawyer has made a direct or indirect contribution(s) to the judge's campaign in an amount that would raise a reasonable concern about the fairness or impartiality of the judge's consideration of a case involving the party, the party's lawyer, or the law firm of the party's lawyer." The committee who spearheaded the amendments opted not to set a specific dollar amount that would trigger disqualification to ensure that the rules "couldn't easily be thwarted."
A recent study by the American Judicature Society found that campaign supporters were involved in approximately 60 percent of the cases that the Pennsylvania Supreme Court hears. In 32 percent of these cases, a single litigant, attorney, or law firm in the case had contributed to at least four of the six justices hearing the case.
The amendments also include stronger protections against hiring relatives and a ban on judges serving on corporate boards. These changes are the result of more than two-and-a-half years of work and are modeled after a code adopted by the American Bar Association in 2007. The new rules go into effect on July 1.