Preservation in Practice: "Reasonable Steps" Under the Proposed Federal Rule Amendments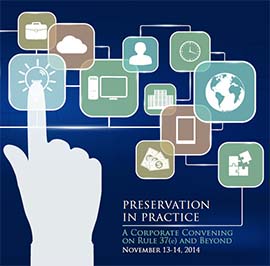 One of the current proposed amendments to the Federal Rules of Civil Procedure, currently under consideration by the Supreme Court, addresses preservation of electronically stored information (ESI). The new proposed Rule 37(e) provides a safe harbor against penalties if a party has taken "reasonable steps" to preserve the ESI.
In November, IAALS convened a group of senior in-house counsel and corporate management from around the country to discuss the challenges of preservation and production, and what the proposed amendments on preservation will mean for companies in practice. Tom Allman, a retired General Counsel and current Adjunct Professor who frequently writes and speaks on this topic, spoke at our convening on the history of the proposed amendment and discussed the "reasonable steps" language and its implications.
In an article published in Bloomberg BNA last week, titled "Reasonable Steps": A New Role for a Familiar Concept, Allman shares his observations. He notes that "[i]n assessing whether conduct constitutes 'reasonable steps' under the Proposed Rule, courts will necessarily weigh the challenged conduct against best practice standards and guidelines, as tempered by the context and other factors." Allman outlines analogies courts can look to when analyzing reasonable steps, speaks to reasonable steps in application, and provides specific examples. Allman notes there is "reason for optimism" that, as parties gain confidence in the rule, it will promote compliance and reduce unnecessary over-preservation.
To read Tom Allman's article, click here. Reproduced with permission from Digital Discovery & E-Evidence Report, 14 DDEE 591 (Dec. 18, 2014). by The Bureau of National Affairs, Inc. (800-372-1033) <http://www.bna.com>