Professor David Thomson Joining IAALS as Inaugural Visiting Scholar
David Thomson, Lawyering Process Professor and Director of the Lawyering Process Program at the University of Denver Sturm College of Law, will be the first IAALS Visiting Scholar for the spring semester of 2013. Thomson will be spending parts of his sabbatical here with us, working on several projects.
Thomson's scholarship includes two areas that dovetail closely with active initiatives at IAALS: electronic discovery and legal education innovation and reform. He was a speaker at the eDiscovery Boot Camp for Judges hosted by IAALS in June 2012, and was a major contributor in the planning of, and was a speaker at, the conference on the development of legal professional identity hosted by Educating Tomorrow's Lawyers in September 2012. Needless to say, Thomson is a longtime friend of IAALS.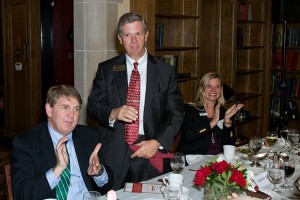 Professor Thomson being honored with the Distinguished Teaching Award. (left to right: Bill Henderson, David Thomson, Marnee Baker)
Professor Thomson was the recipient of the prestigious University of Denver Distinguished Teaching Award for 2011-12. Thomson is also the author of Law School 2.0: Legal Education for a Digital Age (LexisNexis/Matthew Bender 2009), a book about the role of technology in the future of legal education, which has been influential and widely cited since its publication. Thomson maintains a blog about legal education, as well.
We are pleased to welcome David as IAALS' inaugural Visiting Scholar and look forward to working more closely with him over the coming months.