Q&A with Jim Sandman, Chair of IAALS' Executive Committee
January 26, 2023
Editor's Note: James (Jim) Sandman, president emeritus of the Legal Services Corporation, is chair of IAALS' board of advisors and executive committee. Trusted partners are key to IAALS' process, and we're excited to showcase their passion and expertise. In this Q&A, Jim discusses access to justice, why IAALS' work is essential, and the one thing he can't live without.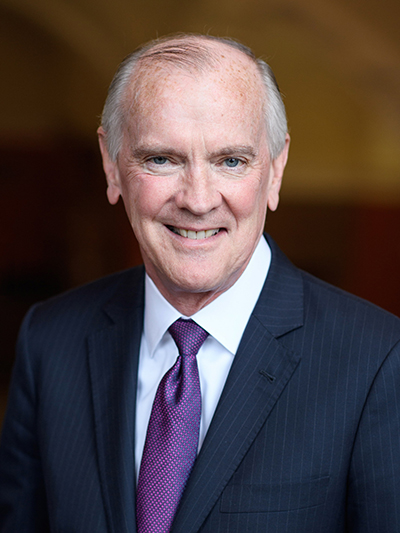 Why is the work of IAALS important?
The effective functioning of our legal system is essential to American democracy and the rule of law. IAALS' work is so important because our legal system is badly in need of improvement. For example, both parties have lawyers in only 24 percent of civil cases in state courts, where about 95 percent of civil litigation occurs. Yet self-represented litigants are compelled to navigate a complicated legal system designed by lawyers, for lawyers, on the assumption that everybody's got a lawyer. The World Justice Project's 2022 Rule of Law Index ranks the United States 115th out of 140 countries for the affordability and accessibility of civil justice; among the 43 wealthiest countries in the world, we rank 43rd. There are many other signs that our legal system is not serving the public as it should.
What do you see as IAALS' key strengths? What does IAALS do uniquely well?
IAALS has four key strengths:
It takes a comprehensive, holistic approach to improving the American legal system. IAALS sees all the interconnections—from legal education; to lawyers' professional development; to regulatory reform; to judicial selection, education, and evaluation; to court processes—in building a legal system that serves the public well.
IAALS' recommendations are objective and based on solid research and empirical evidence.
IAALS has an extraordinary ability to convene thought leaders and stakeholders across different disciplines and to include the user voice in its processes.
IAALS doesn't stop with recommendations, but facilitates implementation. I know of no other organization that does all of these things so well.
What does access to justice mean to you?
A person has access to justice when they are able to understand their rights under the law, to assert and protect those rights, and to get a fair result.  
What is a trait you admire in others?
Humility—a lack of self-aggrandizement or self-indulgence. Humility and generosity are usually companion virtues.
What is the last book you read?
Four Thousand Weeks: Time Management for Mortals, by Oliver Burkeman. It's a critique of conventional notions of time management and efficiency. It urges a focus on what really matters. The title got my attention. Four thousand weeks is the average life span. That doesn't sound like a lot to me!
What is the one thing you can't live without?
Inspiration. I need inspiring people, ideas, and values to make me better, to give me hope and motivation, and to keep me positive.