Rebecca Love Kourlis and Judge David Prince on "Working Smarter, Not Harder"
February 28, 2014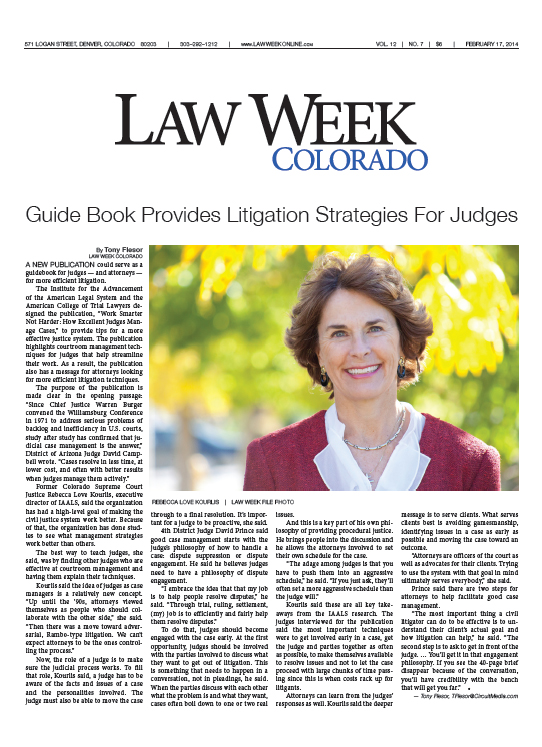 In a recent article, Law Week Colorado covered IAALS' newest publication, Working Smarter, Not Harder: How Excellent Judges Manage Cases, which shares the recommendations and key practices of nearly thirty state and federal judges from around the country who were identified as being outstanding and efficient case managers. The Law Week article features interviews with IAALS Executive Director and former Colorado Supreme Court Justice Rebecca Love Kourlis and 4th Judicial District Judge David Prince, one of the judges who was featured in Working Smarter.
Kourlis explains that "the best way to teach judges . . . [is] by finding other judges who are effective at courtroom management and having them explain their techniques." Working Smarter, Not Harder does just that. The publication outlines the recommendations of each judge, who discuss their successful trial techniques in the hopes that other judges can replicate them. Kourlis and the judges all agree: it is vital for judges to be proactive in moving cases along to final resolution.
Judge Prince embraces this idea and believes that a judge's job is to help people efficiently and fairly resolve disputes. To do that, he says, judges should become engaged with the case early, discussing outcomes with the parties in conversations instead of through pleadings. "When the parties discuss with each other what the problem is and what they want, cases often boil down to one or two real issues." With the goals laid out, attorneys can help set an aggressive trial schedule.
Attorneys can also learn from the judges' recommendations. "Attorneys are officers of the court as well as advocates for their clients," says Kourlis. "Trying to use the system with that goal in mind ultimately serves everybody." She and Judge Prince believe that effective litigators should understand their client's goals and how litigation can help, and then get in front of the judge to work through issues without lengthy court filings.
Working Smarter, Not Harder was released in January in conjunction with the American College of Trial Lawyers (ACTL) and can be downloaded here.