Resource Center Benefits Graduate Student Workers along with Their Divorcing Clients
February 12, 2015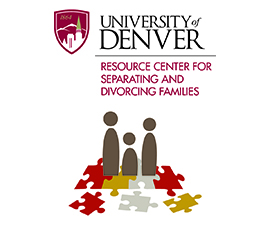 Since opening in September 2013, the University of Denver's Resource Center for Separating and Divorcing Families (Resource Center or RCSDF) has served as an invaluable resource for participating families. The Resource Center also provides University of Denver graduate students with an opportunity to work within their field and gain valuable experience, so they are better prepared to assist families in crisis when they begin their careers; students work with family clients under the supervision and mentoring of a psychologist, social worker, and attorney mediator.
In January's Family Court Review, former RCSDF students Stacy Harper (law), Lori Jurecko (social work), Julie Melowsky (psychology) and Chelsea Towler (psychology) join with RCSDF Executive Director Melinda Taylor to share their perspectives on the experience.
During their work at the Resource Center, the student-authors overwhelmingly recognized how a holistic approach—incorporating therapeutic, legal education, and dispute resolution services—can benefit families transitioning through separation and divorce:
Our commitment to educating parents on the emotional toll divorce can have on children, while providing them with support and guiding them in a less stressful direction, allowed families to exert more control over their lives and adopt adaptive coping skills. The legal guidance, educational sessions, and mental health services that we provided also increased the likelihood that families would acknowledge and address their emotional needs, as opposed to ignoring the psychological effects of separation and divorce.
The student perspectives also illustrate how the different disciplines learned to blend individual approaches and perspectives. Collectively, the students report: "[w]e have grown in our abilities to be flexible and independent problem-solvers. . . . We can adapt to changing circumstances, and we have become increasingly capable of trusting and respecting not only other professionals, but also the often diverse perspectives offered by our clients."
According to RCSDF Executive Director Melinda Taylor, who worked with the students throughout the Resource Center's first year in operation, "[t]he students began their placement firmly grounded in established education and theory; they concluded their placement at a place where the theoretical and the experiential were in sync. They had the rare opportunity to experience, reflect, and problem-solve in a community with their peers and mentors."
The model on which the Resource Center is built was developed by IAALS, and Taylor advocates for widespread replication of the model. As well as benefiting families and children in communities around the country, Taylor notes that "replication of this type of model will ensure that our family law system has well-qualified and prepared professionals who have dedicated their careers to separating and divorcing families."
Additional perspectives from a JD/MSW student and Psy.D. student, as well as perspectives of RCSDF supervisors, are available on IAALS Online.