Sheep in Wolves' Clothing: How Special Interests Stepped Up Their Game in the 2013-2014 Judicial Elections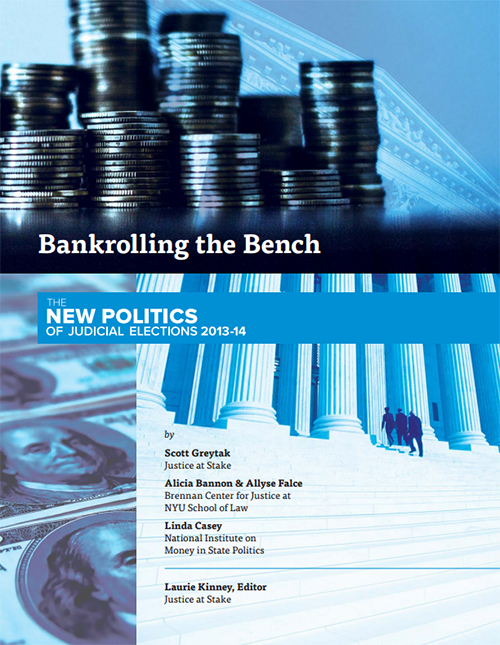 When spending in the Pennsylvania Supreme Court election surged to more than $16.5 million this month, it set a new record in U.S. history.
Special interests opened their checkbooks to fund malicious ads accusing candidates of issuing "lenient sentences" and of "fail[ing] to protect a child." TV advertising pitted plaintiffs' lawyers and labor unions against the Republican State Leadership Committee, a Washington, D.C.-based group. In the end, three Democrats who vastly outspent their rivals swept three open seats on the court.
While it was record-breaking, Pennsylvania's Supreme Court election was no aberration. Its sky-high spending, ad war among special interests, and dominance by candidates who spent the most all fit into a pattern. This grim picture threatens the evenhanded justice that our Constitution promises, and raises troubling questions about whether justice is indeed for sale.
These trends are documented clearly in the recent report, "Bankrolling the Bench: The New Politics of Judicial Elections 2013-14," coauthored by Justice at Stake, The Brennan Center for Justice at New York University School of Law, and the National Institute on Money in State Politics.
Here are several key findings from Bankrolling the Bench:
More than 90 percent of contested state Supreme Court seats in 2013-14 were captured by the candidate who raised the most money.
Special-interest money flooded these elections as never before, accounting for a record 29 percent of total spending, or $10.1 million.
"Tough on crime" was the most common campaign advertisement theme, as a record 56 percent of TV ad spots discussed the criminal justice records of judges and judicial candidates.
Whether it's lawyers or special interests opening their wallets to support judicial candidates, such record-breaking spending threatens public confidence in the impartiality of our courts. Almost nine in 10 Americans said in 2013 they believe judicial decisions are influenced by campaign cash.
Part of the spending deluge comes as the "tort wars" between business interests and plaintiffs' lawyers continue to become much broader "court wars" that reflect other high-profile issues such as the environment and public education. Yet the ads run in these races typically conceal the true interests behind them. Are we expected to believe that big businesses and plaintiffs' lawyers really care whether the next bank robber gets 10 years or 20 years in prison? This fails the laugh test. These groups are mostly concerned about bottom lines and electing receptive judges.
These attack ads also demonize their targets. "Even the winners . . . end up so tarnished and beaten up that they are not in a position to evoke from the public, the same level of confidence," former Indiana Chief Justice Randall Shepard said recently.
Bankrolling the Bench also includes a disturbing note about the impact of intense politicking around criminal justice issues in judicial elections, as it references how a growing body of research—most recently a report from the American Constitution Society entitled Skewed Justice—suggests that this storm of TV ads is influencing judges' decision-making from the bench.
Today, states that elect their judges are reaching Code Red. States must consider reforms, such as merit selection, that would help restore confidence that everyone can indeed have a fair day in court.