States Consider Increasing Mandated Divorce Classes
March 11, 2014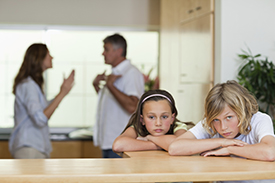 A 2008 study from the Association of Family and Conciliation Courts found that forty-eight states offer classes for families going through a divorce or separation. Depending on a family's situation, the classes may be required either at the state or county level. This year, some states are considering expanding upon their divorce class programs.
In 1994, Utah passed legislation requiring divorcing couples to attend a two-hour seminar prior to divorcing. Now, a lawmaker in Utah has taken the policy one step further by proposing to split the seminar into separate segments, with the first seminar occurring earlier in the process so that counselors have the opportunity to remind couples of reconciliation as an option.
Proponents of the bill hope to decrease the divorce rate through earlier intervention, giving couples an opportunity to repair their marriage. Opponents argue that adding an additional hurdle to an already emotional and grueling divorce process may not be in the best interest of the families involved. They claim that by the time the class occurs, couples have progressed far enough through the process that they have made up their minds to divorce.
Meanwhile, a bill in Alabama would require couples with children to take a class designed to "increase parents' sensitivity to their children's needs during a divorce or separation proceeding." The Alabama program would teach parents about increasing cooperation and how divorce affects children of different ages, and would provide an assessment for domestic abuse.
Like in Utah, opponents are concerned the bill would create a barrier to getting a divorce. However, proponents argue that the bill is not designed to forestall divorce, but to make sure that children are supported throughout the process.