Survey Highlights Public Trust and Confidence in State Courts and Room for Improvement
For the fifth year in a row, the National Center for State Courts has conducted a comprehensive public opinion survey to gauge the level of public trust and confidence in the state courts. The State of the State Courts survey provides an important window into public views of our court system, including comparisons across past surveys and insights into key issues for the future of our state courts including self-representation and online dispute resolution.
The study found that, despite "a year that saw widespread political attacks on judges, campaign accusations of special interest influence on the court system, and increasingly partisan battles over judicial elections and nominations," views toward the state courts have largely held steady and in some cases have improved. With regard to overall confidence in the state court system, the survey found three-quarters of respondents (76%) say they have a great deal or some confidence in the state court system—the highest since the NCSC began tracking in 2012. The same is not true of the Supreme Court and federal courts generally, where the survey found a split across party lines, with confidence decreasing on the part of Democrats and increasing on the part of Republicans.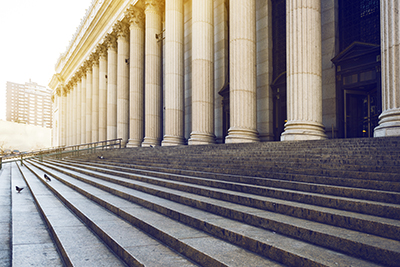 While overall public trust and confidence in the state courts is high, the survey highlights room for improvement, including political bias, racial bias, inefficiency, and lack of innovation. "Voters, particularly non-white voters, believe more can be done by judges to understand the needs of those in their courtrooms."
The survey also highlights a theme consistent with our work at IAALS in the area of self-represented litigants: "Voters feel ill-equipped to navigate the court system without an attorney and lack confidence in their ability to represent themselves." The broad majority of respondents do not feel that our state courts are doing enough to help people navigate the system without an attorney. Despite the reality that there are self-represented litigants on at least one side in 75-80% of civil and family cases in our state courts, the majority of respondents did not feel empowered or confident enough to represent themselves, regardless of resources or information provided.
The survey also explored alternative methods for representation and dispute resolution, including: online dispute resolution, an attorney representing a portion of a case, self-help resources, licensed professions for legal form preparation, court staff assistance, and phone/online access to an attorney. "More information is clearly needed for voters to decide whether they want to engage with these new resources; while they make it clear that they would like alternatives to hiring a lawyer for full representation, their lack of confidence or familiarity with the alternatives presented leaves them choosing 'the devil they know.'" This highlights an area for continued education and reform. On a positive note, respondents saw online dispute resolution as a possible alternative for resolving smaller cases including traffic tickets and consumer debt, where work is already underway in state courts across the country to make this a effective and efficient alternative.