Task Force Releases "Bench Card," Additional Resources for Judges on Fines and Fees
February 24, 2017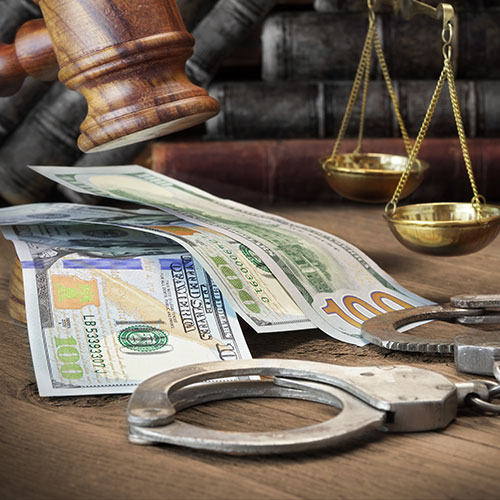 Debtor's prisons have been illegal in the United States for nearly 200 years, and in 1983 the United State Supreme Court's ruling in Bearden v. Georgia again made it clear that judges cannot send people to jail simply because they do not have the means to pay court fines.
Despite this seemingly clear ruling, many economically disadvantaged people today are still routinely jailed when they do not have the money to pay for court fines and fees, even those resulting from minor infractions like traffic tickets. NPR News investigated the impact of court fines and fees in 2014, raising the awareness of this issue.
The nation's two national state court leadership associations, the Conference of Chief Justices and the Conference of State Court Administrators, formed a National Task Force on Fines, Fees and Bail Practices in early 2016 to address this issue. This month the Task Force released a series of resources "intended to assist state courts in promoting the fair and efficient enforcement of the law and to ensure that no citizen is denied access to the justice system based on race, culture, or lack of economic resources."
Part of the problem, according to a recent article published by KTOO Public Media, is that judges did not have a clear standard for determining who was "too poor" to pay these court fines and fees. One of the new resources is a "bench card" containing a clear set of instructions for state judges to use when determining whether a person has the means to pay. "The model card provides simple and clear rules about notifying defendants about their rights (including the right not to be jailed for being poor), how they must be allowed to explain their financial situation, a definition of poverty, and so on. It includes a set of procedures ensuring this happens, as well as a list of options for people unable to pay," according to The Week. The bench card and additional resources are now available online at ncsc.org/finesfees. 
"No one in America should be sent to jail—or threatened with jail—solely because they are poor. In too many instances, judges are ignoring fundamental rights guaranteed by the Constitution, while local politicians treat the court system as an ATM for their spending priorities. This must change, and this task force is committed to taking steps to ensure justice for all," said Task Force co-chair Maureen O'Connor, Chief Justice of the Supreme Court of Ohio. But the creation of the bench card is just the first step in addressing the problem, she argues. Judges and public officials alike still require training as to how to best implement policies that ensure people are not unjustly jailed for their inability to pay court fees and fines.
The U.S. Department of Justice announced last year that it would be giving out assistance grants to state and local courts in an effort to change practices that put poor people who cannot pay the fines in jail. In addition, the Conference of Chief Justices and the Conference of State Court Administrators have teamed up in sponsoring similar grants that educate and train judges and public officials to ensure that citizens are not denied access to the justice system based on their race, culture, or lack of economic resources.
Although the bench card is only one step, it represents "an enormous advance in the fight against debtor's prisons," said Nusrat Choudhury, Senior Staff Attorney for the American Civil Liberties Union.