U.S. Supreme Court to Revisit First Amendment Rights of Judicial Candidates
October 9, 2014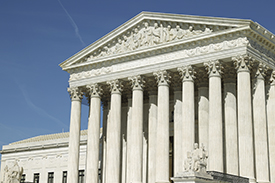 The U.S. Supreme Court has agreed to settle a conflict in lower federal and state courts regarding whether judicial candidates may personally solicit campaign contributions. The nation's highest court has not addressed the First Amendment rights of judicial candidates since 2002.
The current case originated when the Florida Supreme Court publicly reprimanded and fined a judicial candidate for a fundraising letter she sent in 2009. Canon 7(C)1 of Florida's code of judicial conduct bars judicial candidates from personally soliciting campaign contributions but allows them to establish campaign committees to do so on their behalf. Thirty states that elect judges have similar bans.
Every state supreme court to address the constitutionality of these restrictions has upheld them, reasoning that they are necessary to preserve the integrity of state judges and public trust in state courts. Federal courts of appeals have split on the issue, with the Third and Seventh Circuits siding with the state courts and courts in four other federal circuits striking the restrictions.
More than a decade ago, in Republican Party of Minnesota v. White (2002), a narrow majority of the U.S. Supreme Court rejected the argument that the need to maintain judicial impartiality—both in appearance and in fact—justified prohibiting judicial candidates from announcing their views on disputed legal and political issues. According to Justice Antonin Scalia's majority opinion, the so-called "announce clause" was not narrowly tailored to achieve those ends and thus violated candidates' First Amendment rights.
Since that ruling, spending in state supreme court elections has skyrocketed, and public opinion polls have consistently shown that at least three-quarters of the public believes that judicial campaign contributions influence judicial decisions. According to the most recent national poll, 87 percent of voters believe that both direct contributions and independent spending have either "some" or "a great deal of" influence on judges' decisions.
The case to be decided by the U.S. Supreme Court in the October 2014 Term is Williams-Yulee v. The Florida Bar, No. 13-1499.
Other regulations of the campaign conduct of judicial candidates that have come under First Amendment scrutiny include prohibitions against candidates making pledges, promises, or commitments regarding future conduct in office; identifying themselves as members of a political party; publicly endorsing or opposing candidates for other political offices; and making speeches on behalf of or holding leadership roles in political parties.