Week Focused on Civil Justice Reform Culminates in Award Ceremony at Supreme Court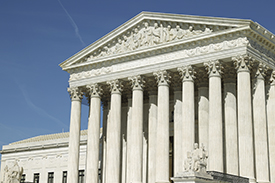 Last week, IAALS met with the other members and staff of the Conference of Chief Justices Civil Justice Improvements committee for its second plenary meeting in Washington D.C. The committee is evaluating civil justice improvement efforts around the country and developing guidelines and best practices for civil litigation, as well as case-flow management.
The meeting was followed by the National Center for State Court's Judicial Excellence Events, which included the Annual Recognition Luncheon and Justice Roundtable, at which the efforts of the Civil Justice Improvements committee to date were discussed. During the luncheon, NCSC presented Jon A. Gegenheimer, Jefferson Parish Clerk of Court in Gretna, Louisiana, with the 2014 G. Thomas Munsterman Award for Jury Innovation. Richard Zorza, Coordinator Emeritus of the Self-Represented Litigation Network, was awarded the Distinguished Service Award.
The events of the week culminated in an award ceremony on Thursday evening, where Chief Justice of the United States John G. Roberts, Jr., presented the William Rehnquist Award to Kansas Judge Steve Leben at a dinner held in the Great Hall of the Supreme Court. Judge Leben, a close friend of IAALS, was recognized for his work in support of procedural fairness. As co-founder of proceduralfairness.org and author of countless publications on the subject, Judge Leben has made a significant contribution to the procedural fairness field. Chief Justice Roberts recognized the importance of this work, which he noted "creates an atmosphere of neutrality and trust . . . and strengthens public trust and confidence in the courts."