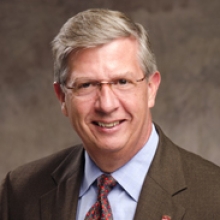 David joined the Sturm College of Law as a member of the faculty in 2003, but he had taught two courses over six years at DU Law as an adjunct professor in the 1990s, and already had extensive experience as a teacher before that. He practiced law for 20 years, starting at Patterson, Belknap, Webb & Tyler in New York City. After several years in New York, he moved to the Environmental Enforcement Section of the Land & Natural Resources Division at the U.S. Department of Justice in Washington, where he litigated pollution cases in federal courts all over the country for the EPA. David moved to Denver in 1990 to join the firm of Rothgerber, Johnson & Lyons, where he practiced environmental and construction litigation. Later, he joined a startup boutique litigation firm in lower downtown Denver. While there he litigated a variety of cases, including employment, construction, and Native American rights matters. For two years, he represented the Northern Arapahoe tribe in a large tribal trust fund case against the United States.
The first time David taught the legal writing course was at Cardozo Law School in New York over 25 years ago. More recently, he taught the course as a member of the adjunct faculty at DU Law between 1991 and 1997. During that time, he also taught a course in pretrial litigation. Since 2003, David has been a member of the Lawyering Process faculty at DU, where he has taught LP, an upper level course in the law of Civil Discovery, and occasionally Administrative Law.
David is well known for his expertise in using technology in teaching, and has presented widely across the country on this topic over the last few years. He is the author of Law School 2.0: Legal Education for a Digital Age (LexisNexis/Matthew Bender 2009). He is also a member of the LWI and ALWD, and in 2010 he was elected to the Board of the LWI. In 2007, David was invited to join the LexisNexis Law School Advisory Board, and more recently served as a member of the LexisNexis Publications Advisory Board. In connection with his work on those two boards, he consults with Lexis about the future of law school casebooks. He is also co-series editor on the Skills & Values Series of hybrid law school textbooks. He has published two books in that series:Skills & Values: Discovery Practice (LexisNexis/Matthew Bender 2010), and Skills & Values: Lawyering Process – Legal Writing and Advocacy (LexisNexis/Matthew Bender 2013).
David served as Director of the Lawyering Process Program at the Sturm College of Law from 2008 to 2013. He is the recipient of the University of Denver's Distinguished Teaching Award for 2011-12. He lives in Denver with his wife Kathy, and two daughters. David publishes a blog on legal education called Law School 2.0.
David was the inaugural Visiting Scholar at IAALS.
Publications
Blog Posts