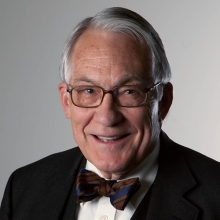 Ozzie Ayscue, a 54-year generalist in both civil trial and appellate work, tried to verdict as lead counsel major cases in many areas, including antitrust, product liability, professional liability, libel, employment discrimination, unfair competition, ERISA, breach of trust, tax refund, trust and will reformation, and banking law. He has defended patent validity and infringement and civil rights cases and defended to successful settlement several securities fraud, breach of fiduciary duty, and employment discrimination class actions.
As Counsel to McGuireWoods, LLP, he now acts as a resource to other lawyers in the firm in their professional engagements and their professional development. A frequent lecturer and a writer on a variety of professional topics, he led or co-chaired United States delegations of judges and lawyers in legal exchanges with China, Cuba, and Great Britain. He also has substantial mediation experience as an advocate and extensive training as both a mediator and an arbitrator.
He had spent his entire career with Helms, Mulliss, McMillan & Johnston, Charlotte, North Carolina, and its successor firms until his firm's 2008 merger with McGuireWoods.
Ozzie, a Monroe, North Carolina, native and a 1951 cum laude graduate of Phillips Andover, graduated from the University of North Carolina in 1954, where he was a member of Phi Beta Kappa.  After a year of graduate work and a tour as a destroyer gunnery officer in the US Navy, he returned to law school at the University, where he served as Editor-in-Chief of his law review and was a member of the Order of the Coif.
He has served as President, American College of Trial Lawyers, 1998-99; President, North Carolina Bar Association, 1984-85; Board member, Legal Services of North Carolina, 1984-85 and 1988-1994; Permanent member, Fourth Circuit Judicial Conference; Member, ABA Standing Committee on the Federal Judiciary, 2001-04; Honoree, Mecklenburg County Bar and American Inns of Court Professionalism Awards; the North Carolina Bar Association's H. Brent McKnight Renaissance Lawyer and John J. Parker Awards; and a UNC Distinguished Law Alumni Award.
He served on IAALS' Board of Advisors until 2016.