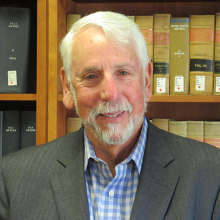 Forrest ("Woody") Mosten is internationally recognized as the "Father of Unbundling" for his pioneering work in Limited Scope Representation to provide affordable and understandable legal services to the underserved members of our society. He is in solo private practice as a Family Lawyer and Mediator in Los Angeles in which unbundling, collaborative practice, representing clients in mediation, and other non-litigation conflict prevention activities are the foundation of his work with clients. 
Mosten is Adjunct Professor of Law at the UCLA School of Law and has taught extensively at other law schools. He is the author of five books and numerous articles about unbundling and other issues of legal access and peacemaking. He was Convener of the first National Unbundling Conference in Baltimore in 2000, and was Editor of the Family Court Review's special issue on unbundling in 2002.
Since 1989, Mosten has served as Chair of the Client Consultation Competition affiliated with the International Bar Association. This worldwide law student activity now bears his name: www.brownmosten.com.
Mosten was appointed to the ABA Standing Committee for Delivery of Legal Services and the ABA Commission on Interest on Lawyers Trust Accounts, and has received the ABA Lifetime Achievement Award as well as the ABA Lawyer as Problem Solver Award for his contributions in Legal Access and Innovative Law Practice as well as the LA County Bar Association Conflict Prevention Award, and was named as Peacemaker of the Year by the Southern California Mediation Association
He can be reached at www.mostenmediation.com.
Blog Posts