The Table is Set: Training Lawyers on Unbundling
September 25, 2018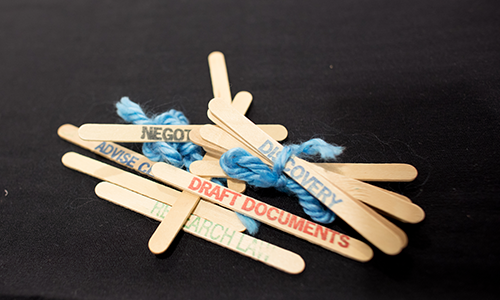 In hosting the 2017 Better Access through Unbundling Conference—the second national conference of its kind—and publishing its comprehensive Conference Report, IAALS has set the national agenda for expanding legal access through limited scope services. IAALS has solicited input from all stakeholders, including but not limited to legal consumers, the courts, the organized bar, private and non-profit providers from various locales and type of practice, and other interested organizations and individuals.
The table is set for the use and growth of unbundling. Jurisdictions have the benefit of model rules, bar endorsement, and replicable models to encourage lawyers to unbundle and make that availability known to consumers.
The key gap in this effort is training of lawyers, judges, court staffs, and auxiliary professionals in the delivery of unbundled legal services and evaluation thereof. This gap can be filled by:
The development of unbundling training curricula;
The training of qualified teachers and trainers of unbundled services;
The sponsorship and support of various training programs in Beta form, with evaluation, to produce the best replicable training courses available; and
Research on the pedagogy of unbundling training to search for the best practices and models in training.
To help bridge this gap, the Association of Family and Conciliation Courts sponsored a national unbundling training in Chicago in March 2018 with the hope that this model will spur additional trainings in individual jurisdictions. And, I am holding the next iteration of this training in San Diego, January 25-26, 2019.
Additionally, Julie Macfarlane, Elizabeth Scully, and I attempted to lay out the training of lawyers in our article, Educating the New Lawyer: Teaching Lawyers to Offer Unbundling and Other Client-Centric Services. We invite comments and critiques as we to move toward a comprehensive unbundling training agenda within the next five years.