Back to IAALS Staff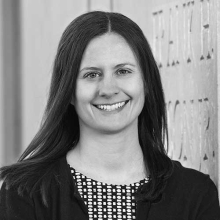 Director of Legal Services and the Profession
Jessica Bednarz is the Director of Legal Services and the Profession at IAALS. In this role, Bednarz is responsible for leading the vision and strategy of IAALS' work around innovation, regulation, reform, and evolution in the areas of the delivery of legal services and the legal profession more generally.
Bednarz joined IAALS in 2023 after working at The Chicago Bar Foundation (CBF). During her eight years with the CBF, Bednarz worked on a wide range of access to justice issues. Her most recent work includes overseeing the CBF's legal incubator program called the Justice Entrepreneurs Project, launching Legal Entrepreneurs for Justice in Colorado, staffing the Chicago Bar Association & Chicago Bar Foundation Task Force on the Sustainable Practice of Law and Innovation focused on regulatory reform, and creating practice resources such as the CBF Pricing and Limited Scope Representation Toolkits. In 2020 Bednarz was selected by the Chicago Daily Law Bulletin as a 40 Under 40 honoree, and in 2013 Bednarz was honored with the Chicago Bar Association Young Lawyers Section Rising Star Award.
Prior to working at the CBF, Bednarz was in private practice specializing in family law, both as a solo practitioner and as an associate at O'Connor Family Law, P.C. She later served as the MCLE Coordinator for The Chicago Bar Association and served as a consultant for the Colorado Bar Association.
Bednarz received her JD and family law certificate, cum laude, from DePaul University College of Law and a BS from the Kelley School of Business at Indiana University.
Publications