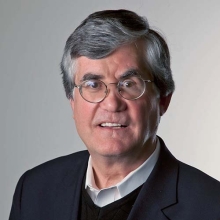 Chief Justice John T. Broderick, Jr., (Ret.) is the former Executive Director of the Warren B. Rudman Center and former Dean of the University of New Hampshire School of Law. Prior to leaving the bench, he was Chief Justice of the New Hampshire Supreme Court since 2004, and served as an Associate Justice since 1995.
Before beginning judicial service, he was a trial lawyer at the law firm of Devine, Millimet, Stahl & Branch in Manchester, where he chaired the litigation department for several years. He served as President of the State Bar Association and the State Trial Lawyer Association, and is a Fellow of the American College of Trial Lawyers. In 1989, he began his own firm of Merrill & Broderick, specializing in civil trial work.
After becoming Chief Justice in 2004, he focused on making justice more accessible, affordable and understandable, and on needed change and innovation in the court system to bring it into the 21st century. He is the recipient of several awards for professionalism and commitment to legal services for the poor. Most recently he received a Lifetime Achievement Award from the New Hampshire Business and Industry Association. He is the only judicial officer in the Association's 97-year history to be so honored. He also received the Bill of Rights Award from the American Civil Liberties Union Chapter in New Hampshire and was recently inducted into the Warren E. Burger Society established by the National Center for State Courts. He is the recipient of four honorary degrees.
He is a former member of the IAALS Board of Advisors.
Dean Broderick graduated in 1969 from the College of the Holy Cross, Magna Cum Laude, and received his law degree from the University of Virginia School of Law.