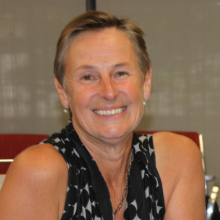 Professor of Law and Distinguished University Professor, University of Windsor
Julie Macfarlane, B.A., LL.M. (London), Ph.D. (South Bank University, London), is a Full Professor in the Faculty of Law and a Distinguished University Professor (the highest honor of the University) at the University of Windsor.
She has published widely in the area of conflict resolution, mediation, and legal practice. She is the author of the bestselling "The New Lawyer: How Settlement is Transforming the Practice of Law" (University of British Colombia Press 2008, 2nd edition forthcoming 2016). Her student textbook, "Dispute Resolution: Readings and Case Studies," is just going into its 4th edition (Emond Montgomery 2016). Both of these texts are used widely in law schools throughout North America. In 2012 Julie completed a four year empirical study of Islamic divorce and published "Islamic Divorce in North America: A Shari'a Path in a Secular Society" (Oxford University Press), attracting much public and media interest.
Her most recent project is the National Self-Represented Litigants Project established at Windsor Law in the wake of the momentum created by her National Study of self-representation ("Identifying and Meeting the Needs of Self-Represented Litigants" in 2013).
Professor Macfarlane is also an active mediator and dispute resolution consultant to a wide range of organizations and government agencies.