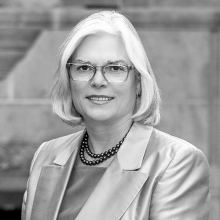 Karen Mathis served as Associate Executive Director and Chief Operating Officer at IAALS from 2012-2018, overseeing the operations side of the organization.
Mathis practiced as a business, commercial, and estate planning lawyer for more than 35 years. Before joining IAALS as its Associate Executive Director, she served on IAALS' Board of Advisors from its founding in 2006.
She earned her law degree from the University of Colorado School of Law and has received five honorary doctorate degrees. A member of the Colorado, formerly of the Philadelphia, and the International Women's Forums, Mathis has been honored as an outstanding lawyer by the Denver and Colorado Bar Associations, the University of Colorado, the University of Denver, and the University of Albany School of Law. The National Law Journal named her among the "50 Most Influential Women Lawyers in America."
Mathis was the third woman to serve as President of the American Bar Association, the largest voluntary organization of lawyers in the world.
While on sabbatical from her law practice, Mathis served as the Executive Director of the Central European and Eurasian Legal Initiative (CEELI) Institute in Prague from 2008-2009. Mathis also served as CEO of Big Brothers Big Sisters of America from 2009-2012.
In 2018, Mathis was appointed to a three-year term on the Advisory Council of the International Legal Assistance Consortium (ILAC) as the American Bar Association's representative. Mathis was also confirmed to a three-year term on the National Academies of Sciences, Engineering, and Medicine's Committee on Law and Justice.
Blog Posts