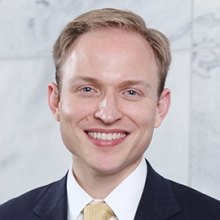 Kent Barnett, who specializes in administrative law, contracts, and consumer law, joined the University of Georgia School of Law faculty in 2012 and became the J. Alton Hosch Associate Professor in August 2018.
Barnett's research focuses on the separation of powers in the federal administrative state, administrative adjudication, and judicial review of agency action. His scholarship has been cited by leading administrative law casebooks and by federal district and appellate courts. His work has been selected for presentation at, among other places, the Yale-Stanford-Harvard Junior Faculty Forum, the Southeastern Association of Law Schools Annual Conference as one of the winners of a call for papers from law faculty, and the Association of American Law Schools Annual Meetings. Barnett recently served as the reporter for the Model Adjudication Rules by the Administrative Conference of the United States, an independent federal agency charged with providing research and recommendations to improve the federal bureaucracy. He was selected by the Class of 2018 as Faculty Marshal for commencement ceremonies.
Before coming to UGA, he was the Inaugural Visiting Assistant Professor at the University of Kentucky College of Law. He also served as a judicial clerk for Judge John Rogers of the U.S. Court of Appeals for the 6th Circuit and practiced in the complex-commercial-litigation and appellate groups at Weil, Gotshal & Manges.
He earned his undergraduate degree summa cum laude from Centre College, where he was elected to Phi Beta Kappa, was selected as a John C. Young Scholar and received The Art Prize, The E. Wilbur Cook Music Prize, and The Franklin-Bennett Music Prize. He received his law degree summa cum laude from the University of Kentucky College of Law, where he was inducted into the Order of the Coif, served as articles editor of the Kentucky Law Journal and received, among other awards, the Colvin P. Rouse Award for best overall legal scholarship, and the Kentucky Commercial Law Foundation Award for best commercial-law scholarship.
Publications