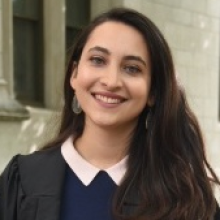 Research & Program Associate, Brennan Center for Justice
Laila is a Research and Program Associate in the Democracy Program, where she focuses on issues pertaining to fair and impartial courts. Prior to joining the Brennan Center, Laila interned at Brooklyn Defender Services, where she created Brooklyn's first police accountability database, which attorneys use to enhance defense services and mitigate police misconduct.
Laila graduated cum laude from Yale in May of 2017 with a degree in History and distinction in the major. While an undergraduate student, she worked as a research assistant for Professor Kate Stith at Yale Law School, conducting empirical and quantitative research on nationwide disparities in the application of sentencing enhancements for repeat nonviolent drug offenders. At Yale, she also received a fellowship to study domestic policy at Yale's Institution for Social and Policy Studies, and served as the Vice President of the Yale Undergraduate Prison Project, mentoring inmates at a Connecticut prison and facilitating advocacy initiatives.