Choosing State Judges: A Plan for Reform
November 15, 2018
State courts, where 95 percent of all cases are filed, are powerful. Their decisions can have profound effects on our rights and our lives—from whether Massachusetts officials can detain people based on a request from federal immigration authorities to whether a Michigan voter-initiated redistricting proposal could appear on the ballot.
Judges are constitutionally obligated to apply the law impartially. But in the 38 states that use judicial elections for part of their selection processes for their state high court, multi-million-dollar campaigns are becoming the norm, threatening the promise of evenhanded justice.
One-third of all elected state supreme court justices currently sitting on the bench have run in at least one million-dollar race. And during the 2015-16 election cycle, more high court justices were elected in $1 million-plus elections than ever before. In the 2015-16 election cycle, outside spending by interest groups—most of which was nontransparent—shattered previous records. When donors can be identified, they are usually frequent players in state courts. Meanwhile, nearly 90 percent of voters believe that campaign cash affects judicial decision making, according to a 2013 poll.
This outsized spending threatens the appearance and reality of impartial justice. Several judges have raised the alarm—Richard Neely, a retired chief justice of the West Virginia Supreme Court of Appeals once observed, "It's pretty hard in big-money races not to take care of your friends. It's very hard not to dance with the one who brung you." And a 2001 survey of state court judges revealed that nearly half—46 percent—believed campaign contributions have some impact on judicial decisions.
Empirical analyses of judicial decision-making raise further concerns. One study found that judges who receive more campaign contributions from business interests are more likely to rule in favor of these actors. This effect disappeared when they were ineligible for reelection. Even the threat of attacks may distort rulings: multiple studies have found that judges facing reelection rule more harshly in criminal matters.
The implications for American justice are acute. In a new report, the Brennan Center urges a series of reforms. As part of a three-year project, the Brennan Center studied how each state chooses its judges, spoke with dozens of experts and stakeholders, reviewed the legal and social science literature on judicial selection, and considered reform proposals from scholars, legislatures, and other actors. Key resources included the extensive work of IAALS on judicial selection best practices.
Drawing on this research, the Brennan Center makes the following recommendations.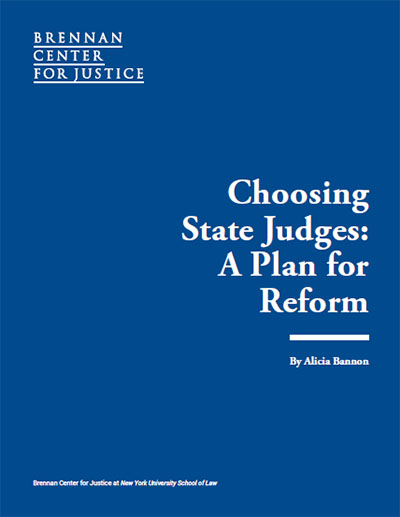 End supreme court elections and use an accountable appointment system:
Use an independent, bipartisan judicial nominating commission with diverse appointing authorities and membership, including non-lawyers. The commission should vet candidates and issue a binding short list of nominees to be considered for appointment.
The application process should be clear and open, with transparent selection criteria and a public vote. Commissioners should be regulated by ethics rules, and commissions should collect data about the diversity of candidates.
The governor should have the authority to make the final appointment decision from the nominating commission's short list.
       2. Adopt a single lengthy "one-and-done" term for state supreme court justices:
Justices shouldn't hear cases knowing that an unpopular decision could cost them their job. To better promote judicial independence, justices should serve a lengthy single fixed term of at least 14 years. Alternatively, justices should serve for indefinite terms, or states should empower an independent commission to make retention decisions. 
       3. Adopt safeguards in states with judicial elections:
Adopt a publicly accountable process for interim appointments. Adopting safeguards for interim appointments would be a valuable first step for reform and an option for states to experiment with a more accountable process.
Strengthen recusal rules. Only a minority of states have rules governing when judges must step aside from cases involving major campaign contributors. Even fewer regulate independent expenditures.
Adopt public financing of judicial elections. Studies have shown that a well-funded public financing system can broaden the pool of judicial candidates and mitigate the conflicts created by special interest spending—but only two states currently provide for judicial public financing.
Provide voter guides and judicial performance evaluations. Most voters lack information on judicial candidates—or only have information from campaign rhetoric. States should provide for voter guides and performance evaluations to encourage informed voting.
State courts play a vital role in protecting individual rights. But the pressures of expensive judicial elections and politicized reselection processes can undermine state supreme court justices' ability to mete out fair and impartial justice. To that end, states must adopt reforms to address contemporary threats to state courts' independence and legitimacy.