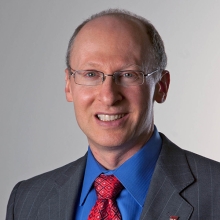 Marty Katz is a nationally respected innovator in legal and higher education.
He recently completed a term as the first Chief Innovation Officer for the University of Denver, where he created a portfolio of initiatives to accelerate value in higher education. His initiatives included cross-disciplinary and community-connected learning opportunities, new course and program formats, and new delivery methods. He developed an online education strategy for the university, and built the structure and capacity to execute that strategy. And he led Project X-ITE, the university's cross-disciplinary entrepreneurship hub, igniting the innovator's mindset among students and faculty, and connecting the University to Denver's rapidly expanding innovation ecosystem. As one of the first university Chief Innovation Officers in the country, he demonstrated that we can indeed break down silos and barriers to collaboration in higher education.
Prior to that, he served as Dean at the University of Denver Sturm College of Law, where he is also a faculty member. As Dean for 7 years, he led Denver Law in the development and implementation of a major strategic plan focused on experiential learning, building core areas of specialization and excellence, and connecting with Denver's legal community. As a result, Denver Law became a national leader in experiential education and doubled its faculty's scholarly productivity. Under Dean Katz's leadership, Denver Law moved up 21 places in US News' law school rankings, had five specialty programs ranked in the Top 15 by US News, and received recognition as one of America's 20 Most Innovative Law Schools.
He has published extensively on the future of legal education, as well as in the fields of constitutional law and employment law. He has lectured extensively on these topics, and has made numerous media appearances in both local and national outlets.
The National Jurist selected him as #4 on their "Most Influential People in Legal Education" list.
Prior to teaching full time, he was a partner in the employment law group at Davis, Graham & Stubbs in Denver, Colorado and a law clerk to the Honorable David M. Ebel of the U.S. Court of Appeals. In his spare time, he flies search and rescue missions for the Civil Air Patrol.