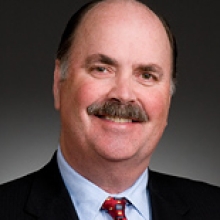 Michael O'Donnell is a founder and the chairman of Wheeler Trigg O'Donnell. His national litigation practice focuses on complex civil litigation involving product liability, professional liability, torts, class actions and mass actions, commercial litigation, and bet-the-company matters. Mr. O'Donnell has appeared as lead counsel in state and federal courts in 25 states.  
Mr. O'Donnell has served as national and regional counsel for Fortune 500 companies, including General Electric, Advanced Bionics, McKesson, Boston Scientific, and Pfizer. He represented NBC Universal in a case involving a catastrophic fire at Universal Studios and is national resolution counsel to GE on product liability cases across the country.  
A Fellow of the American College of Trial Lawyers, Mr. O'Donnell served as the chairman of its Colorado chapter for two consecutive years and currently serves as the Regent for the 10th Circuit. He was also elected a Fellow of the International Academy of Trial Lawyers and to the American Board of Trial Advocates. Mr. O'Donnell is a former chairman of The Network of Trial Law Firms, a 7,000-member lawyer organization that offers continuing legal education programs on litigation topics.
Colorado Super Lawyers has ranked Mr. O'Donnell the number one lawyer in Colorado for three years in a row (2013-2015) based on a survey of his peers, and he has been named to its top 10 list every year since 2009. Best Lawyers lists Mr. O'Donnell in five litigation practice areas and named him "Denver Legal Malpractice Lawyer of the Year" for 2011 and "Denver Product Liability Litigation Lawyer of the Year" for 2012 and 2013. In 2011, Law Week Colorado selected Mr. O'Donnell as one of 10 "Lawyers of the Decade" in Colorado. In a survey conducted by Law Week Colorado in 2010, Mr. O'Donnell was selected by his peers as the "Best Trial Lawyer" in Colorado.   
In 2012, Mr. O'Donnell was honored with the DU Law Outstanding Alumni Award, which is presented each year to one DU Law graduate who has demonstrated professional achievement and humanitarian service to the community. In 2008, he became only the seventh defense lawyer to receive an award from the Colorado Trial Lawyers Association for the highest standards of competency, ethics, and professionalism.