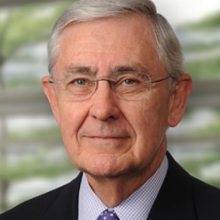 After spending nearly 15 years serving as a judge for the Missouri Court of Appeals, Phillip Garrison decided to return to litigation, helping guide his clients through complex commercial litigation matters at Polsinelli.
Mr. Garrison spent his legal career actively involved in the area of litigation. In 1990 he was selected as a Fellow of the American College of Trial Lawyers and later served as a Regent of the College representing its members in Missouri, Iowa, Nebraska, South Dakota, North Dakota, Minnesota, Saskatchewan, and Manitoba. He has written and lectured extensively in the area of litigation and particularly on the subject of discovery in civil litigation.
In 1993, he began his service as a judge of the Missouri Court of Appeals, Southern District. He resigned in 2007. His experience spans the areas of general commercial litigation with an emphasis in litigation involving medical devices, personal injury, contracts, products liability, eminent domain, dissenter's rights, and general tort actions.