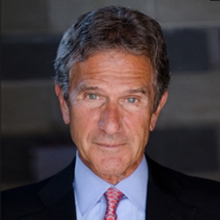 Robert L. Byman is a litigator and past president of the American College of Trial Lawyers. He represents clients in complex commercial cases on diverse issues ranging from patents and intellectual property, securities and commodities, civil rights, and contractual disputes concerning such fields as construction, insurance, financing, franchising, and corporate acquisitions. He was lead trial counsel in the largest jury verdict ever in the State of Connecticut; he served as lead counsel to the firm's chairman, Anton R. Valukas, in his capacity as examiner in the Lehman Bankruptcy. Mr. Byman also has extensive experience in alternative dispute resolution as an advocate, arbitrator and mediator.
Mr. Byman is AV Peer Review Rated, Martindale-Hubbell's highest peer recognition for ethical standards and legal ability. He is a Fellow and the past President of the American College of Trial Lawyers, whose members are limited to 1% of the bar and are selected by invitation only after an extensive investigation of their trial records and integrity. The College is recognized as the premier organization of trial lawyers in North America; it is the only organization of lawyers in which every member of the US and Canadian Supreme Courts have addressed the group in order to accept honorary Fellowship.
Mr. Byman is also a Fellow of the International Academy of Trial Lawyers, which, like the College, selects its Fellows by invitation only, but from more than 30 countries world-wide; the Academy is limited to 500 active Fellows from the United States. In 2001, Mr. Byman was selected by the American Bar Association to be one of four Showcase Trial Lawyers to retry the "Chicago Seven" case.
Mr. Byman is a regular columnist on Federal Civil Procedure issues for the National Law Journal and has authored more than eighty articles, chapters and texts on various trial practice subjects. He is a frequent speaker and faculty member at seminars, continuing legal education and law school trial advocacy programs. Mr. Byman devotes a substantial amount of his practice to pro bono work and has represented clients in a number of cases that have attracted national media attention and have been the subject of books and feature films. Early in his career, Mr. Byman served as assistant general counsel of the A.C. Nielsen Company.