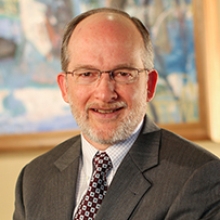 Judge, Kansas Court of Appeals
After serving nearly 14 years as a district judge in Johnson County, Steve Leben joined the Court of Appeals in June 2007. At the time of his appointment, Leben was serving as president of the American Judges Association and was teaching a course at the University of Kansas School of Law.
Throughout his career, Leben has been dedicated to both expanding and generating scholarship on the development of law, procedure, and legal ethics. In addition to 13 published articles, Leben has served as editor of Court Review, a national journal for judges, since 1998. The National Center for State Courts recognized him for his contributions to the administration of justice nationally by giving him its national Distinguished Service Award in 2003. He also edits the practice manual on Kansas family law published by the Kansas Bar Association, in addition to writing one of its chapters. The Kansas Bar Association gave him its outstanding Service Award in 2000 and named him the Outstanding Young Lawyer in Kansas in 1993.
Before becoming a judge, Leben practiced law for 11 years in the Kansas city area—six years with the firm of Stinson, Mag & Fizzell (now Stinson Morrison Hecker LLP) and another five years in solo practice. His practice included general civil litigation, administrative law, personal-injury litigation, and family law. As a district judge, Leben's docket included civil, criminal, and family-law cases.