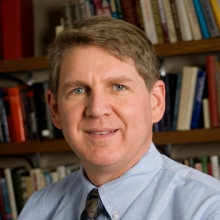 William D. Henderson joined the IU Maurer School of Law faculty in 2003 following a visiting appointment at Chicago-Kent College of Law and a judicial clerkship for Judge Richard Cudahy of the U.S. Court of Appeals for the Seventh Circuit.
In conjunction with other Indiana law faculty, Henderson introduced a new first-year course in 2009 called The Legal Profession. This mandatory four-hour course covers the ethics, competencies, and economics of the legal profession. Inspired by the 2007 Carnegie Report on Legal Education, the course uses legal ethics and the law of lawyering as the spine of a course that immerses students in a variety of practice settings and that educates them on the competencies they must develop to succeed in their professional lives.
In addition, Henderson teaches various business law courses, including corporations, business planning, project management, and the law firm as business organization. From 2009-2014. he served as the director of Indiana Law's Center on the Global Legal Profession.
Henderson's scholarship focuses on empirical analysis of the legal profession and legal education. His published work includes articles in the North Carolina Law Review, Indiana Law Journal, Texas Law Review, Michigan Law Review, and Stanford Law Review. He is also a frequent commentator, author, and lecturer on trends in the legal profession, including patterns of lawyer mobility, the relationship between profitability and associate satisfaction, the economic geography of large law firms, and attrition rates of female and minority attorneys. His work appears frequently in such national publications as The American Lawyer, The Wall Street Journal, ABA Journal, and the National Law Journal. In 2012 and 2013, National Jurist magazine named him the second-most influential person in legal education.
In addition to his teaching responsibilities, Henderson is a research associate with the Law School Survey of Student Engagement (LSSSE) and a principal in Lawyer Metrics, a consulting firm that uses evidence-based methods to assist firms in identifying, selecting, and developing world-class lawyers. He is also a regular contributor to the Empirical Legal Studies Blog (www.elsblog.org) and is an editor of the Legal Whiteboard blog.
Blog Posts