< Back to Civil Justice Initiative
In 2013, the Conference of Chief Justices adopted a resolution creating a Civil Justice Improvements Committee to develop recommendations for improving our civil justice system at the state level. The Committee, chaired by Chief Justice Thomas Balmer of the Supreme Court of Oregon, was comprised of a blue-ribbon group of legal and judicial leaders from around the country, including state chief justices, trial court judges, court administrators, attorneys, and academics. IAALS worked alongside the NCSC to support and contribute to the efforts of the Committee over its two-year existence. The ultimate recommendations, detailed in the report Call to Action: Achieving Civil Justice for All, were adopted by CCJ and the Conference of State Court Administrators (COSCA) by resolution in July 2016. The 13 recommendations are a nationwide call to action to transform our state courts to meet the needs of litigants in the 21st Century.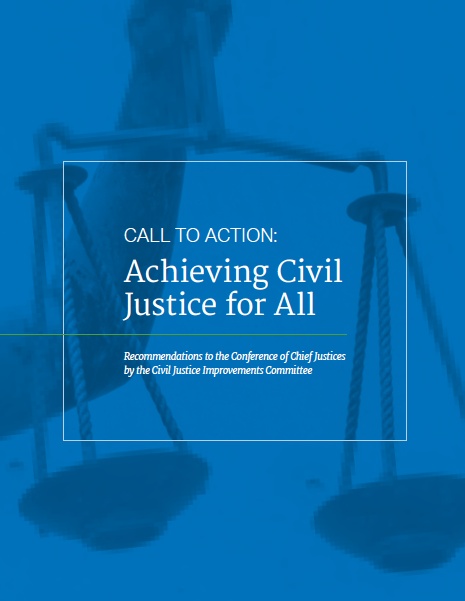 Courts must take responsibility for managing civil cases from time of filing to disposition.
Beginning at the time each civil case is filed, courts must match resources with the needs of the case.
Courts should use a mandatory pathway-assignment system to achieve right-sized case management.
Courts should implement a Streamlined Pathway for cases that present uncomplicated facts and legal issues and require minimal judicial intervention but close court supervision.
Courts should implement a Complex Pathway for cases that present multiple legal and factual issues, involve many parties, or otherwise are likely to require close court supervision.
Courts should implement a General Pathway for cases whose characteristics do not justify assignment to either the Streamlined or Complex Pathway.
Courts should develop civil case management teams consisting of a responsible judge supported by appropriately trained staff.
For right-size case management to become the norm, not the exception, courts must provide judges and court staff with training that specifically supports and empowers right-sized case management. Courts should partner with bar leaders to create programs that educate lawyers about the requirements of newly instituted case management practices.
Courts should establish judicial assignment criteria that are objective, transparent, and mindful of a judge's experience in effective case management.
Courts must take full advantage of technology to implement right-size case management and achieve useful litigant-court interaction.
Courts must devote special attention to high-volume civil dockets that are typically composed of cases involving consumer debt, landlord-tenant, and other contract claims.
Courts must manage uncontested cases to assure steady, timely progress toward resolution. 
Courts must take all necessary steps to increase convenience to litigants by simplifying the court-litigant interface and creating on-demand court assistance services.
"Strong leadership and bold action are needed to transform our system for the 21st century. With this Report, we have worked to provide the necessary insight, guidance, and impetus to achieve that goal."