2019 IAALS Rebuilding Justice Award Honors Hewlett Foundation and Foundations for Practice Partner Schools
April 19, 2019
On Thursday, April 25, IAALS will present the William and Flora Hewlett Foundation and our four Foundations for Practice partner schools with the 2019 Rebuilding Justice Annual Award at our 12th Annual Rebuilding Justice Award Dinner. The William and Flora Hewlett Foundation has been instrumental in executing our Foundations for Practice project, and the four schools—Columbia Law School, University of Denver Sturm College of Law, Northwestern University Pritzker School of Law, and Seattle University School of Law—have worked tirelessly to bring this project to life.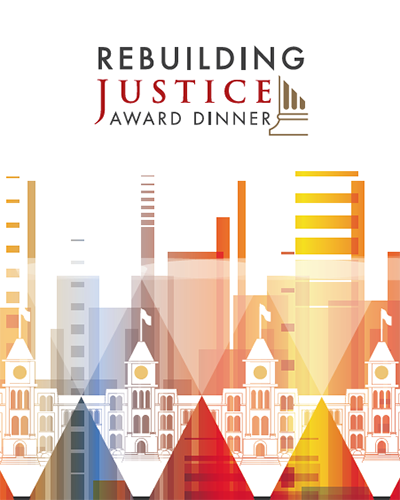 Foundations for Practice began by identifying the competencies, skills, characteristics, and qualities that entry-level lawyers need to succeed in legal practice. Building on those insights, IAALS collaborated with the four partner schools to develop measurable models of legal education that support these foundations and align market needs with hiring practices to incentivize positive improvements.
Through a series of IAALS-facilitated workshops, each school recruited employers in their region to participate in the creation of new learning outcomes and foundations-based hiring protocols. Each school walked away with learning outcomes tailored to the needs and values of the school and its employers and IAALS walked away with a Learning Outcomes Model.
The Rebuilding Justice Award is given to individuals and organizations that exemplify the spirit of innovation and leadership that we champion across all of our work toward building a legal system that is accessible, fair, reliable, efficient, and accountable. The first recipient of the award was United States Supreme Court Justice Sandra Day O'Connor (Ret.) in 2007. Prior recipients include former chief justices of state supreme courts, legislators, federal district court judges, attorneys, legal educators, and philanthropists.
The evening will include a keynote address by Kathryn A. Reilly, a Partner at Wheeler Trigg O'Donnell LLP, and plenty of opportunities to speak with our Foundations for Practice participants and learn more about the impact the project is having across the country.
Please join us in honoring these legal innovators at our 12th Annual Rebuilding Justice Award Dinner on April 25 at the Cable Center on University of Denver's campus. For any additional information about the event, please contact IAALS' Events Manager, Amy Downing, at amy.downing@du.edu.