In 2022, Judges Are On, Around, and Behind the Ballot
November 3, 2022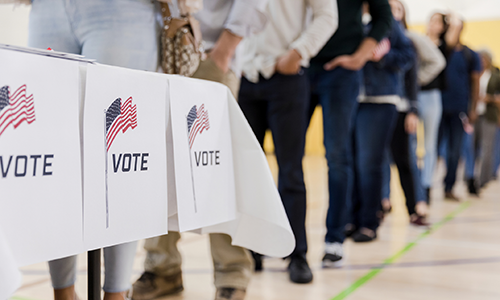 This November, thousands of judges across 38 states find themselves on the ballot. Some are engaged in partisan races to secure their seats, while others face nonpartisan races or uncontested retention elections. And while judicial elections are often characterized as low-salience, "sleepy" affairs, there is reason to believe that this year judicial races will capture more voter attention than usual.
One reason for increased interest is the presence of separate ballot initiatives in some states concerning technical questions of judicial administration. New Mexico voters, for example, must decide whether to give newly appointed judges at least one full year on the bench before they face reelection. West Virginia voters are contemplating a constitutional amendment that would prevent courts from interceding in impeachment proceedings in the legislature, political fallout from a 2018 lawsuit which halted the impeachment of a former state supreme court justice. And Colorado voters must decide whether to give the governor permission to reassign existing judges to a newly created judicial district. Citizens who take the time to learn about these issues may carry their interest over to learning about and voting in judicial races as well.
But there is another reason for increased voter attention to judges: more so than usual, courts across the country have been tasked this year with resolving high-profile challenges to state and local election rules. The most publicized of these decisions was the Pennsylvania Supreme Court's recent order to disallow improperly dated mail-in ballots, but other decisions have drawn local and national attention as well. In the last three weeks, partisan interest groups have asked one federal court to block campaign finance reforms from going into effect in Illinois, and another federal court to ban the use of electronic voting machines and drop boxes in Kansas. The Wisconsin Court of Appeals upheld a lower court decision banning the practice of "ballot spoiling." And looming large in the background, the U.S. Supreme Court is set to hear Moore v. Harper, a major redistricting case from North Carolina, in December.
When courts decide election-related cases, the visibility of their decisions invite the public to contemplate its feelings about the judiciary and its role in American democracy. In more politically neutral times, such contemplation might be seen as an act of responsible self-governance. In our current era, however, politicians and opinion leaders are quick to portray any decision contrary to their policy preferences as an affirmative threat to democracy, and to paint the court that issued the decision as anti-democratic or illegitimate. The U.S. Supreme Court has been a particular target of such attacks. One recent newspaper op-ed asserted that the Court has "limit[ed] the avenues for protecting democracy;" another thought piece more directly labeled the Court "a threat to our democracy." In October, President Biden notably referred to the Court as "an advocacy group." And former President Trump's attacks on the Supreme Court—and the American court system generally—are legion.
Painting any court as illegitimate or anti-democratic is an especially potent rhetorical weapon because legitimacy is the lifeblood of the courts. When judicial decisions are presented as lacking legitimacy, citizens are implicitly invited to question not just the validity of legal determinations, but also the validity of the institutions that issued them. Without legitimacy, courts cannot obtain the resources they need to operate, nor can they expect that the public will accept their decisions. They cease to be an effective branch of government.
The weaponization of judicial legitimacy is all the more troubling because it coopts and redefines a concept to which the courts themselves subscribe. Indeed, courts openly strive for process-related legitimacy, demanding that the public hold judges to the highest standards of procedural fairness, impartiality, efficiency, and clarity regardless of the outcome of any given case. Even in heavily contested partisan judicial races, candidates overwhelmingly emphasize their knowledge, patience, and experience over policy preferences or political affiliations. No judge, regardless of political leanings, wants to tie a court's legitimacy to specific case outcomes.
Nevertheless, the "illegitimacy" narrative may have sinister downstream effects. The Justices of the U.S. Supreme Court are not on any state's ballot, nor are the federal judges who are largely tasked with sorting through the modern election challenges. But with courts and judges all too fungible in the mind of the ordinary citizens, attacks on the legitimacy of one court can diminish public perceptions of others. Judges facing the voters this year are keeping their heads down and hoping that the "illegitimacy" cloud doesn't pass directly overhead.