Access to Legal Services for Low Income People on President's List of Cuts
Associate Professor and Director, Family and Child Legal Advocacy Clinic, University of Wyoming College of Law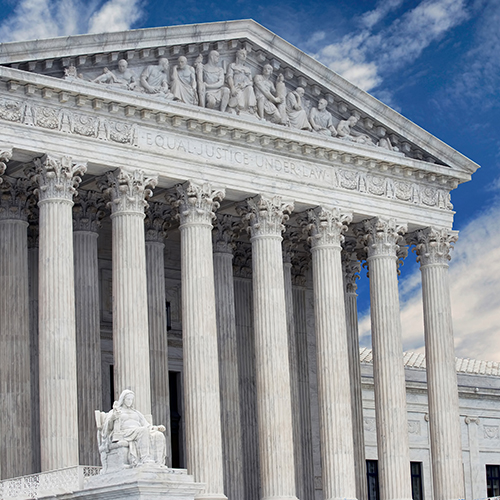 On the front of the United States Supreme Court building in Washington, D.C., is the proclamation "Equal Justice Under Law." However, according to our Cases Without Counsel study, in some jurisdictions nearly 80 percent of people with a court case end up representing themselves. For many, not being able to afford a lawyer is the main reason for the wide justice gap.
The President's proposed 2018 budget would eliminate federal funding for the Legal Services Corporation (LSC), an agency that funds programs that work to provide low-income individuals and families access to the civil legal system. Increasing access to the courts improves people's perspectives about the justice system and, most importantly, can improve their safety, access to basic necessities, and economic self-sufficiency.
According to the LSC, their programs "help veterans secure the benefits they have earned, assist domestic violence victims in obtaining protection orders against abusers, protect seniors from consumer scams, and help disaster survivors get back on their feet." LSC does more than provide direct civil legal representation for low income people. They also organize and encourage pro bono and reduced fee attorneys to help clients; create and deliver innovative and cutting-edge ways to provide information to people who need it, including with hotlines, automated websites, and court forms; and partner with others to meet the highest unmet legal needs with limited resources.
According to the United States Department of Justice, "many studies show that people who get legal help, across a range of problems, receive better outcomes than people who do not. For example, in housing cases, a randomized control trial found that 51% of tenants in eviction proceedings without lawyers lost their homes, while only 21% of tenants with lawyers lost possession; and, the research of two economists indicates that the only public service that reduces domestic abuse in the long term is women's access to legal assistance."
Additional funding cuts to a program that has made such huge strides in the provision of civil legal services, especially for low-income people, threatens to diminish the trustworthiness of our legal system, which is so important to our economy and our democracy. If we are serious about providing equal justice under the law, now is the time to embrace, not eliminate, innovative and efficient means of promoting and providing access to justice for all.