Alabama Adopts New Judicial Recusal Law
April 21, 2014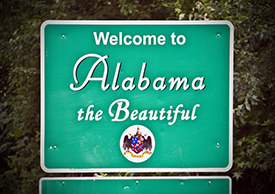 Last week, the Alabama legislature passed a new law that addresses judicial disqualification in cases involving campaign contributors. The state is an ideal target for recusal reform. From 2000-2009, Alabama ranked first in the nation in campaign fundraising and spending for state supreme court races. The 2006 cycle alone saw $14.5 million in contributions and expenditures.
Alabama imposes no limits on campaign contributions to judges.
The new law calls for judges to recuse themselves if a reasonable person would believe a campaign contribution impairs a judge's impartiality or if the donation creates a "serious, objective probability of actual bias." Other states have similar standards.
But the Alabama law goes further and creates a "rebuttable presumption" that judicial recusal is required based on the proportion of campaign support in the most recent election cycle a judge received from a party before the court. The presumption applies when, at the time the contribution was made, it was foreseeable that the party's case could come before the judge. "Party" includes a party to the case, an attorney on the case, or the attorney's law firm. For appellate judges, the presumption kicks in when a party has provided at least 10 percent of a judge or justice's support. (The minimum percentage is 15 percent for circuit court judges and 25 percent for district court judges.)
The legislature passed another judicial disqualification law back in 1995. It required recusal of appellate judges where a party had donated at least $4000 and of trial judges where a party had given at least $2000. It represented one of the strictest such laws in the nation at the time, but for a variety of reasons, the law was never enforced.