Attention in Tennessee—and Around the Country—Turns to Court-Related Ballot Measures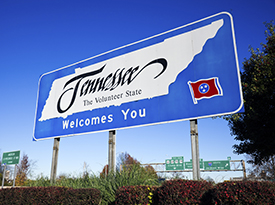 On August 7, three Tennessee Supreme Court justices withstood a well-funded (and well-covered by IAALS Online: here, here, and here) challenge to their retention on the bench for subsequent terms. The retention opposition campaign received $425,000 from Lieutenant Governor and Senate Speaker Ron Ramsey's PAC and $400,000 from the Republican State Leadership Committee, while the justices themselves raised $800,000 to keep their seats. A combined $1.4 million was spent by both sides on TV ads.
Tennesseans are now looking ahead to November 4, when voters will decide whether to adopt a modified federal selection process—gubernatorial appointment with senate confirmation and periodic retention elections—for the state's appellate judges. The SJR 2 campaign, known as "Yes on 2," officially kicked off last week with an ad narrated by former U.S. Senator (R-Tenn.) and Law & Order star Fred Thompson.
Tennessee is not the only state with court- and judge-related measures on the ballot this November. Voters in four other states will weigh in on proposed constitutional amendments affecting judicial selection and tenure:
Florida: SJR 1188 would allow an outgoing governor to make "prospective" judicial appointments. That is, it would authorize a governor whose term is ending to replace judges whose terms are ending at the same time, rather than leaving it to the incoming governor to do so. Three justices will leave the court in early 2019 in conjunction with the end of Governor Rick Scott's term. Approval requires 60 percent voter approval.
Hawaii: Voters will weigh in on two proposed constitutional amendments involving courts and judges in November. HB 420 would require the judicial nominating commission to make public the names of all nominees submitted to the governor for possible appointment; SB 886 would increase the mandatory judicial retirement age from 70 to 80. Majority support of those voting in the election is required—i.e., a non-vote is a "no" vote.
Louisiana: HB 96 would eliminate the state's mandatory judicial retirement age of 70.
Nevada: SJR 14 would create an intermediate appellate court. Nevadans rejected a similar proposal in 2010.
For complete coverage of state ballot measures that would impact the courts, visit Gavel to Gavel from the National Center for State Courts.