Colorado-Based Civics Education Program Receives National Award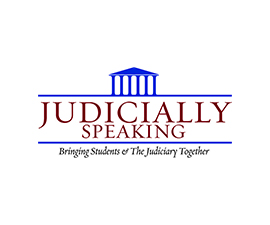 IAALS congratulates Colorado's Judicially Speaking on receiving the Sandra Day O'Connor Award for Advancement of Civics Education from the National Center for State Courts. Judicially Speaking is a civics education program founded by Colorado trial judges, including friend of IAALS Judge David Prince. The program is designed to promote middle and high school students' understanding of the role of the judiciary in the American legal system.
Through this innovative program, judges go into classrooms to conduct interactive exercises with students. Students work in small groups, first acting as legislators passing a law to address a particular issue and then as judges to apply the law in an actual case. They then discuss their decisions, with the students doing most of the talking. Since 2009, Judicially Speaking has been implemented in classrooms around the state and reached thousands of students, thanks to the participation of more than 100 educators and judges from all levels of Colorado's courts.
The Sandra Day O'Connor Award for Advancement of Civics Education "honors an organization, court, or individual who has promoted, inspired, improved, or led an innovation or accomplishment in the field of civics education related to the justice system."