Divorcing Together: An Interdisciplinary Out-of-Court Approach to Separation and Divorce
May 16, 2019
It is no secret that divorce poses significant problems for those who go through the legal process. Even for people who approach it with the intention of remaining amicable, the adversarial nature of the legal process can put them at odds with one another. And, the courts are not well-positioned to provide much-needed emotional and future-planning support to families as they navigate the process. Today, IAALS has released a new report, Divorcing Together: Report on an Interdisciplinary Out-of-Court Approach to Separation and Divorce, which details the evaluation of our out-of-court model aimed at addressing these challenges for families with children.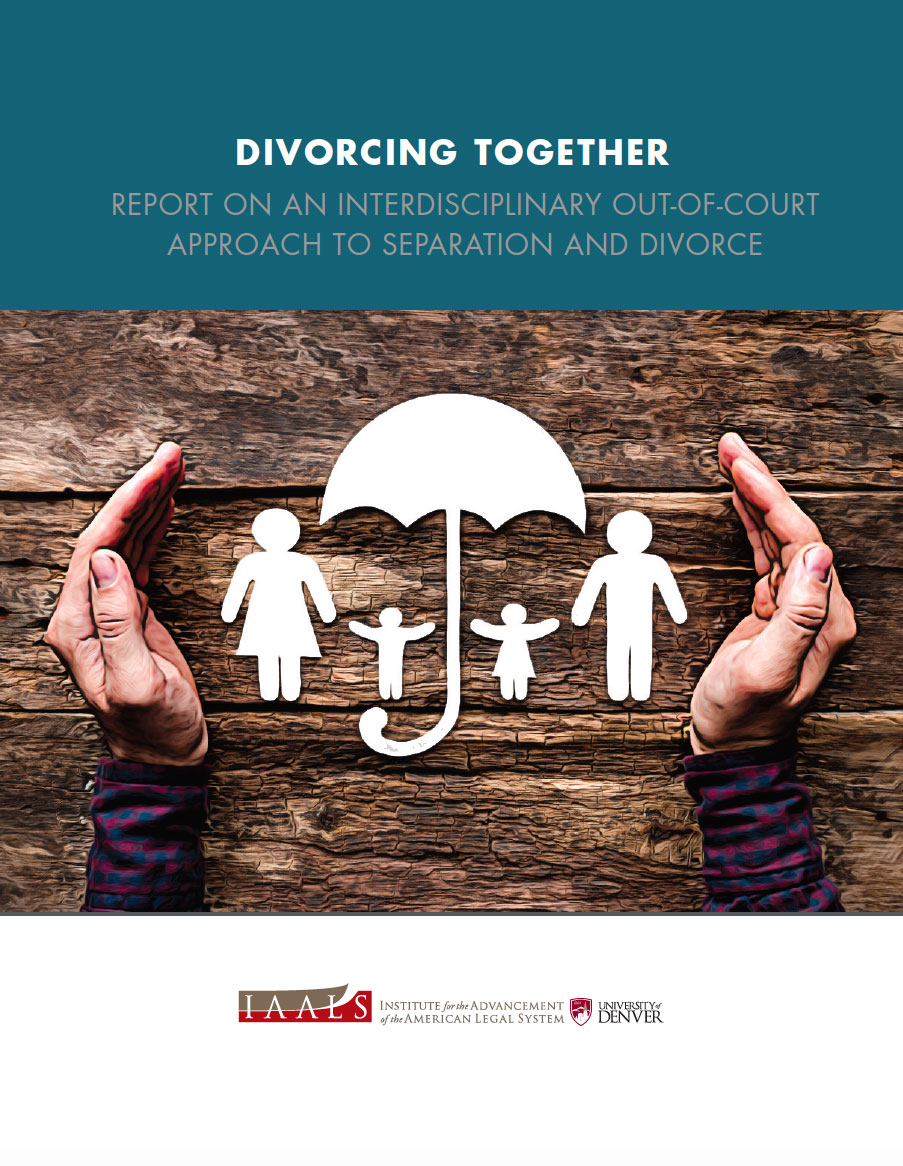 We began designing our out-of-court divorce model in 2012 when we assembled a team of experts and stakeholders in the areas of family law and mental health. Working closely with this team, we devised a comprehensive divorce process that offered a range of services provided completely outside of the courts. The model was designed to provide not only legal services—including court case management, mediation, legal drafting, and legal education—but also a host of counseling services, such as co-parent coaching, individual counseling, family therapy, support groups, and child counseling. In 2013, IAALS debuted the model on the University of Denver campus where graduate student interns served as the primary service providers. In 2015, the Center moved out into the Denver community and shifted to licensed professionals as primary service providers. Ultimately, the Center was unable to find a sustainable business model and closed its doors in late 2017.
Even with the Center closed, the successes and lessons learned throughout its four years of operation are invaluable as we continue to refine innovative models for helping families, and IAALS' evaluation report provides keys insights. Most notably, the data demonstrates that individual parents experienced significant improvements in levels of acrimony toward the other parent, shared decision-making skills, communication and conflict resolution skills, confidence in the co-parenting relationship, and levels of stress related to parenting. Further, parent feedback about the Center experience was overwhelmingly positive. As one parent put it:
"The focus on children and what is best for them that is advocated by [the Center] helped our entire family go through the process and has positioned us for a harmonious co-parenting situation moving forward."
The IAALS out-of-court model represents a substantial step in revolutionizing the way families experience the separation and divorce process—and our data will be informative as new innovations continue to develop. As communities around the country establish similar resources, we can look forward to a day when all families who intend to work together through the divorce process can do so in a supportive, cooperative environment.