Foundations for Practice Reveals the "Whole Lawyer," Like Doctors' Bedside Manner
August 23, 2016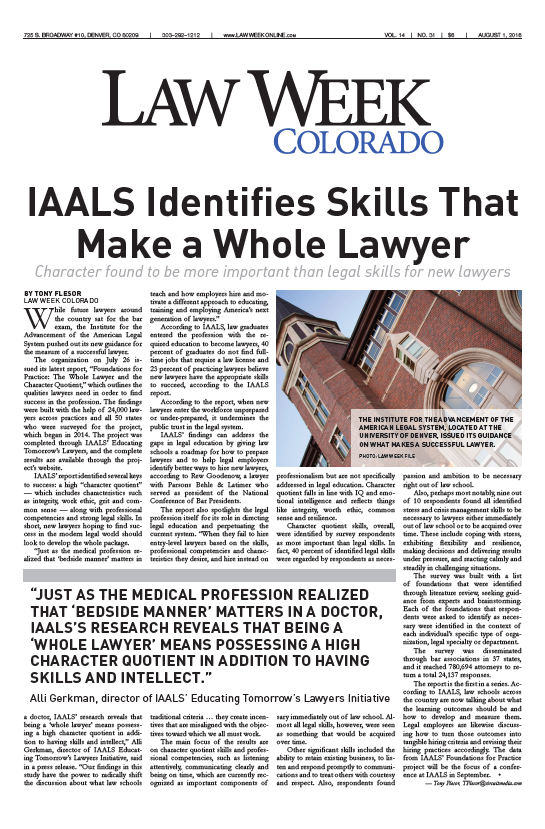 After the release of the first two reports from our Foundations for Practice project, Law Week Colorado published an article highlighting the groundbreaking findings, which "have the power to radically shift the discussion about what law schools teach and how employers hire and motivate a different approach to educating, training, and employing America's next generation of lawyers," according to Alli Gerkman, Director of Educating Tomorrow's Lawyers.
Among the most important findings is that a high character quotient—consisting of attributes like grit, integrity, and work ethic—is essential to a new lawyer's success in the legal profession. Gerkman notes:
"Just as the medical profession realized that 'bedside manner' matters in a doctor, IAALS' research reveals that being a 'whole lawyer' means possessing a high character quotient in addition to having skills and intellect."
According to Rew Goodenow, a member of the Foundations for Practice Advisory Group and the former President of the National Conference of Bar Presidents, these new findings can "address the gaps in legal education by providing law schools with a roadmap for how to prepare lawyers and help legal employers identify better ways to hire new lawyers." From the report:
"When [legal employers] fail to hire entry-level lawyers based on the skills, professional competencies, and characteristics they desire, and hire instead on traditional criteria . . . they create incentives that are misaligned with the objectives towards which we all must work."
Law schools across the country are now reaching out to IAALS and discussing the findings as they contemplate aligning their learning outcomes. At the same time, "legal employers are discussing how to turn those outcomes into tangible hiring criteria and revising their hiring practices accordingly." Foundations for Practice will also be a marquis topic at the 5th Annual Educating Tomorrow's Lawyers Conference, held in Denver September 22-24.