The Future of Legal Education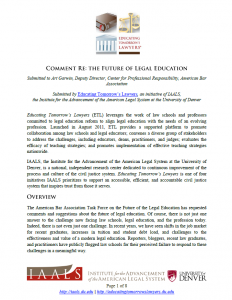 The American Bar Association's Task Force on the Future of Legal Education convened during the ABA's mid-year meeting in Dallas to hear testimony from individuals about opportunities to improve legal education. ABA President Laurel G. Bellows told the New York Times, "We are going to look at everything from scratch. We have to keep everything on the table."
The Task Force has been collecting comments from individuals and organizations since late last year. Many of the comments and much of the testimony focused on the expense of law school and the debt new lawyers have when they enter the profession. Educating Tomorrow's Lawyers, an IAALS initiative, submitted a comment focused on aligning legal education with the needs of an evolving profession, and made the following recommendations:
Prepare lawyers for practice in a changing world: a legal education, informed by the needs of the profession, that integrates knowledge, practice, and professionalism, with significant opportunities for hands-on study better prepares students to serve their clients and the legal system.
Involve and listen to a diverse group of stakeholders: legal educators and law school administrators must drive the change, but they cannot do so effectively without the guidance of practitioners, judges, and clients.
Collaborate: law schools and legal educators should share what they teach and learn as they develop new programs and curricula.
Incentivize: law schools should provide incentives, similar to scholarship incentives, to legal educators who are superb teachers. Similarly, the American Bar Association and other governing bodies or rating systems should incentivize law schools to value teaching in a manner at least equal to scholarship.
Value: value the teaching of professional identity as a core competency. Lawyers have played a significant role in the history of our country. There is much for them to do in the society of the future. However, to fill that role, lawyers must be viewed as ethical, trusted leaders and legal education is where that training begins.
Measure and assess: Educating Tomorrow's Lawyers starts with the values and recommendations of Educating Lawyers (the Carnegie Report), but assumes the report is only the beginning. By collecting information and data on existing practices and student outcomes, we can measure, evaluate, and adjust teaching strategies to continuously improve legal education for an evolving profession.
You can read our full comment here.