High Numbers of Self-Represented Litigants Left Underserved by Family Courts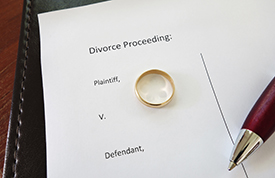 It comes as no surprise to those who work in or with the courts that many litigants these days proceed through the civil and family court system without an attorney. According to Gavel to Gavel, the figures collected and released in Indiana's recent State of the Judiciary show that over half of all civil and family law litigants in 2013 were self-represented—specifically, 63 percent in civil cases and 60 percent in family law cases.
Indiana Chief Justice Brent E. Dickson remarked: "When people are in court without a lawyer, bad things happen. It places unrepresented litigants under a great disadvantage and is almost always detrimental to their interests; it deprives judges from receiving all the information they need to make just and fair judicial rulings; and it clogs court dockets and delays justice for all court users."
High rates of self-representation are not unique to Indiana, and the Honoring Families Initiative is exploring this issue in our efforts to improve the in-court processes for divorce and separation.