IAALS Advances Justice with Alan Carlson
February 27, 2019
IAALS simply would not be what it is without the support of our staff, partners, and friends. They are essential to our efforts and hail from a wide range of backgrounds, viewpoints, and sectors. Every month, IAALS shines the spotlight on one such person and takes you behind the scenes for a lighthearted glimpse into those upon whose guidance and support we rely. Together we are advancing justice.
Alan Carlson, CEO (Ret.), Orange County Superior Court, California; Board of Advisors, IAALS
Alan is the epitome of a can-do person. He views problems as opportunities and he dives into teaching himself, understanding and listening before embracing a solution. I first visited with Alan at his courthouse in Orange County. I sat on a bench in the hallway waiting for my meeting with him. It reminded me that the people who come to our trial courts are from every walk of life, and they come to the courts seeking fair and efficient outcomes to real problems in their lives. Alan's office was stacked with files and lists—a small office in the back of the courthouse. But, my sense was that he was at the hub of a very effective organization, where everyone respected and admired him and where he never forgot whom he was really serving: the public. 
Alan has been a pivotal part of IAALS over the last few years. He has led us in some strategic planning, helped us with projects, and connected us to other partners. It is not unusual to get a few emails a week (or day) from Alan linking articles he has found on AI in the courts, or case management or new innovations. He is always searching for better ways to do things. His version of retirement is to become MORE involved with the issues that interest him, and more engaged in finding ways to contribute. Alan is one of the people who have blessed IAALS with his energy and contributions—and IAALS is much the better for it.
Earlier this month we caught up with Alan to bring you the most recent edition of Partner Profile. Alan has served on the Board of IAALS since 2013 and will step down July 1, 2019.
How did you initially get involved at IAALS? The State Court administrator of Minnesota recommended me for the IAALS' Board of Advisors and Becky called me. It didn't take her long to convince me that IAALS was a worthy cause and commit to serving.
Other than your charming wit, what do you believe you brought to IAALS? As a state trial court administrator, I brought a different perspective. I'm the one "standing in the swamp" as I like to put it, keeping trial court judges and litigants happy. I was deeply embedded in the day to day operations and management of trial courts, mostly in California, but I also had done this work in other states. I brought this in-the-trenches experience with me to every board meeting and conversation.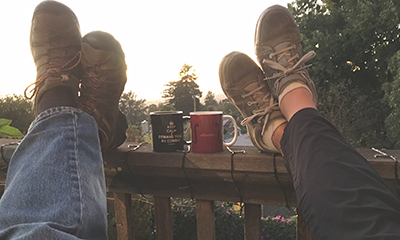 What are your favorite projects at IAALS? Court Compass, which advocates for user-friendly, streamlined, and accessible solutions that help people through the divorce and separation process—even when they cannot afford to or choose not to hire an attorney and Case Management, which is an important tool in combatting the problems of excessive cost and delay in civil litigation and ensuring access for all litigants. Both of these projects are close to my heart. People need more self-help options and strong case management by judges is essential to the integrity of trial courts. After my own personal experience probating my mother's estate, I have become an even stronger advocate for more self-help court resources. 
What trait do you most admire in others? Courage. Courage to speak up and stand up for what you believe in.
Which person, living or dead, do you most admire?  Without question, Abraham Lincoln. He had so much to contend with during his presidency between the Civil War, the Emancipation Proclamation, and the divisions across the country.  He was willing to listen to opposing views and change his mind over time. I've always admired the way he brought together his 'team of rivals" and led the country closer to what it needed to be. He's my #1 hero.
What is your greatest extravagance? Doing what I want to do in retirement. I'm not a particularly extravagant person, I take great pleasure in simple things such as a beautiful sunset, kayaking, books, and music. I'm still keeping busy, especially as I take on this project with IAALS to explore the reasons for falling caseloads.    
If you were stranded on a deserted island, what three things would you have and why? WiFi access to unlimited books, white wines from the New Zealand Marlborough appellation, and, of course, my family.
What do you consider your greatest professional achievement? Getting Orange County Superior Court through the Great Recession.  When I started in 2008, our budget was upwards of $230M and we had 1,900 employees. By 2016, the budget was $198M with 1,430 employees AND we provided higher quality services, were operating with a fully electronic record, including e-filing, and a trend-setting self-help portal. The management teams were incredible during that time.