IAALS Convening Reaches Consensus for Reforming Judicial Recusal Procedures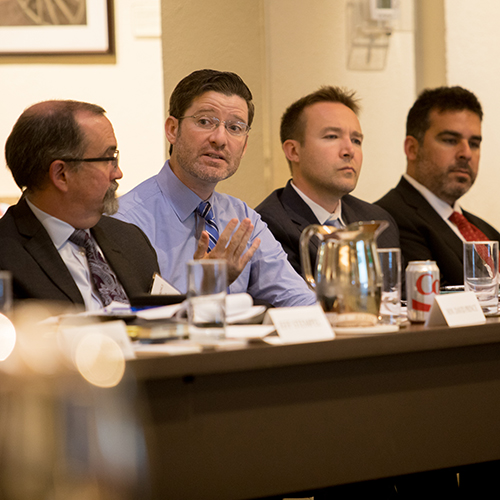 On November 3-4, 2016, IAALS convened a blue ribbon group of judges, scholars, and attorneys from across the country to discuss best practices for procedural rules for judicial recusal. The group discussed the need for procedures that are fair to both judges and litigants, that provide transparency without sacrificing efficiency, and that uphold the public's confidence in the fairness and impartiality of the judiciary. The discussion built on work on this topic by the American Bar Association (ABA), the Conference of Chief Justices, and the Brennan Center for Justice.
The group reached consensus on a number of general principles, and is moving forward with a report (expected in Spring 2017) that presents these principles along with a range of specific alternative methods to implement them. These proposals will put into practice the general guidance outlined in the ABA's Resolution 105C and the Conference of Chief Justices' Resolution 8, both of which articulated strong general principles to improve recusal procedures.
Procedural recusal rules address how, and by whom, requests for judicial recusal are handled. These rules do not provide why a judge should step aside—those substantive rules are laid out in state rules of judicial conduct, case law, and statutes. But procedural rules are important, and in many states, these rules are inadequate or unwritten.
The working group convened by IAALS agreed that procedural rules for recusal should be accessible to, and understandable and usable by, the public, including self-represented litigants. The rules should assure the public that a clearly articulated and fair process is in place to ensure that reasonable questions regarding judicial impartiality receive fair and independent consideration. While the majority of requests for judicial recusal may be without merit, the exceptional cases in which judges fail to recuse themselves in appropriate circumstances can threaten judicial legitimacy. Recent U.S. Supreme Court cases such as Caperton v. Massey and Williams v. Pennsylvania demonstrate the need for objective consideration of recusal motions in cases in which a conflict of interest is apparent to reasonable observers, but the motion is nonetheless denied by judges who are allowed to be the sole arbiters of their own impartiality.
There is no one-size-fits-all to recusal procedure, and rules should be tailored to fit particular communities, cultures, and states. But, there are specific goals that courts should aim for. These common-sense solutions would go far to protect public confidence that judges are deciding cases in a fair and impartial manner. These include:
Providing for timely determinations of recusal motions.
Referring recusal motions to an independent judge.
Providing meaningful appellate review of denials of recusal motions.
Requiring denials of recusal motions to be explained in writing or on the record.
Establishing mechanisms for efficiently replacing recused judges, particularly for courts of last resort.
Encouraging jurisdictions to provide ethical training for judges and resources that allow judges to seek guidance or consultation on questions of recusal.
Collecting data on judicial recusal decisions.
Each of these principles represents an improvement over current recusal practice in many states, and would serve as a prophylactic barrier to the unusual case in which judicial recusal is warranted, yet is denied in a manner that calls the integrity of the process into question. To be sure, recusal procedure reform is no panacea—our nation's courts face threats that go well beyond concerns about conflicts of interests in particular cases. But the tradition of judges stepping aside from cases in which their impartiality may reasonably be questioned represents a critical backstop to our due process safeguards, and improved procedural rules for recusal represent low-hanging fruit when it comes to strengthening public confidence in judicial integrity.
Mentioned Content
IAALS brought together judges, attorneys, scholars, and citizens from around the country to consider best practices for judicial recusal procedures that are fair to both judge and litigant, and that are efficient and transparent. This invitation-only convening focused on the process of recusal and did not wade into...
Read More