The IAALS Effect on Hiring at Wheeler Trigg O'Donnell
July 15, 2021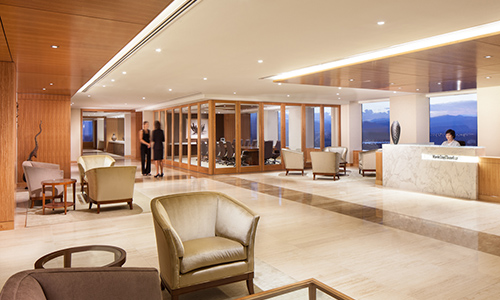 At Wheeler Trigg O'Donnell (WTO), we've been fortunate to have a front-row seat to the outcomes and transformation that IAALS has achieved through Foundations for Practice and resulting efforts. After Foundations launched in 2016, WTO and IAALS collaborated to survey WTO's partners on the characteristics that they viewed as most essential for new associates to be successful at WTO. The results have been exciting and encouraging.
We knew there would be much to learn. We were unprepared, however, for quite how powerful that data would be to WTO when it came to improving retention rates and increasing diversity at the firm.
The Data: High on Agreement
Like many firms, WTO had sought for some time to improve its hiring outcomes: namely, to improve in hiring young lawyers who would become partners at WTO, and to increase the diversity of our interview candidates and hires. The survey findings helped us articulate, for the first time and in concrete terms, exactly what WTO's partners think it takes to succeed at WTO—and the results illuminated how WTO's priorities differ from its national peers: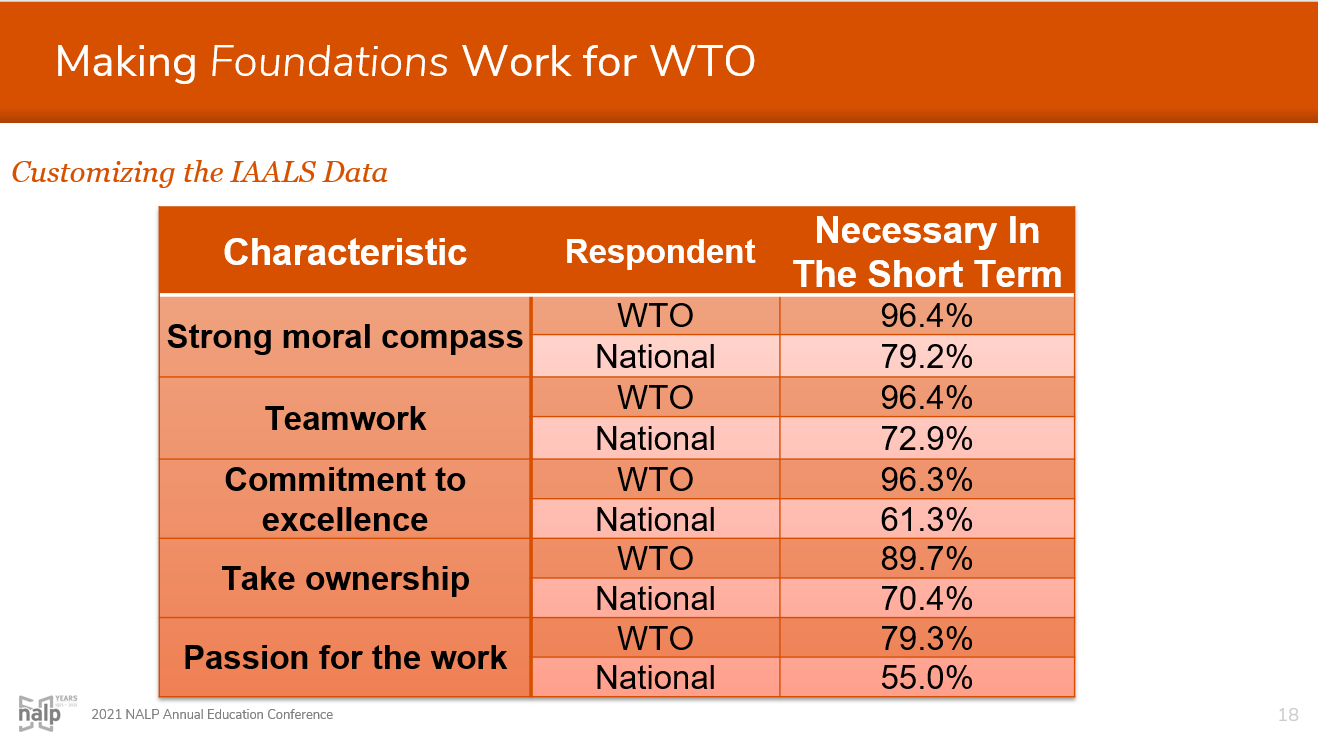 Through Foundations, IAALS had surveyed more than 24,000 lawyers in all 50 states. During that process, IAALS identified nearly 150 "foundations," or skills and traits that IAALS and survey respondents identified as necessary for young lawyers to possess in order to succeed. Of those nearly 150, survey respondents identified 76 foundations that were essential to a young lawyer's short-term success. From that list, WTO partners—individually and independently— ranked the five characteristics in the table above at the top of their lists.
WTO's survey results revealed that WTO partners share a profound level of agreement that, without these five specific characteristics, young lawyers are likely to struggle at WTO. While the values and characteristics our partners selected didn't surprise us, the high rate of agreement did. Collectively, we knew we valued these things—but the IAALS results illustrated in a whole new way just how much we prioritized these traits.
We also could not have predicted how wide a difference in value WTO partners placed on those traits compared to law firm partners nationwide. At WTO, we've always known we were different, but until now we couldn't have measured that difference in relation to our hiring efforts. For example, while a whopping 96% of WTO partners believe that 1) a strong moral compass, 2) teamwork, and 3) a commitment to excellence are all essential traits for young lawyers to possess in order to succeed at our firm, only 79%, 73%, and 61%, respectively, of partners nationwide also deemed those traits essential to the success of young lawyers in their firms.
The Epiphany: Our Interviews Failed to Help Identify These Key Traits
The data that the IAALS survey yielded helped us to evaluate our interview process anew. Were we really conducting interviews in a manner that helped us identify candidate qualities and experiences that were consistent with the traits our partners prized? In short, the answer was no.
Historically, WTO screened candidates based on pedigree and a sense of capability and likeability from their applicant materials, which we then sought to affirm in interviews. While those have been and may yet remain instructive characteristics, they don't tell us anything about a candidate's moral orientation, or whether a lawyer would love collaborating to litigate and try difficult cases. Pedigree, capability, and likeability alone are meaningless when attempting to measure the lengths a candidate will go to in the pursuit of excellence for a client. In short, our prior process was insufficient to achieve our ultimate goals.
The IAALS survey results forced us to better—and to very intentionally—express exactly what we were looking for in our candidates, even before the interview stage. IAALS also helped us develop a road map to better read resumes and conduct interviews to measure the specific characteristics that our partners sought, rather than attempting to gauge the "fit" and "feel" we hoped to get from an interview in order to inform a hiring decision.
The Shift: Behavior-Based Interviewing
Thanks to the IAALS data, we realized we needed to ask different questions. We couldn't approach interviews in the same way as we had been, looking for "flow" and "fit." We needed structure, and we needed to ask questions that elicited examples of past behavior under circumstances similar to those which candidates would experience at WTO. And we sought to mitigate against implicit bias, which may have hampered our prior efforts to identify and hire more diverse candidates.
By digging deep to learn about a candidate's characteristics or competencies, rather than scanning for traditional indicators such as law school attended, class rank, GPA, and clerkships, we began to truly learn more about the candidates we were meeting.
With the results of our survey freshly in our hands, WTO identified three primary categories that we would interview for:
Character: teamwork, leadership, and integrity;
Intellect: effective explanation of legal issues, ability to think both deeply and critically, and attention to detail; and
Initiative & Dedication: a candidate's drive for excellence, sense of personal responsibility, work ethic, grit, and tenacity. 
Additionally, we assigned every WTO-interviewing lawyer a specific objective in their interview slots. Much like a deposition—and as a trial and litigation boutique, every WTO lawyer is skilled in the art of eliciting critical information—the WTO attorney had a clear task when entering the interview room. Each interviewing lawyer would report back in specific and measurable terms, based on scripted questions designed to capture concrete and objective evidence of the candidate's prior relevant experience that revealed the traits WTO partners desired. 
The Results: Diversity Hires Increased
So after all that, what happened? In 2018 and 2019, male candidates overwhelmingly applied for positions at WTO, coming in at 67% and 78% of all applicants, respectively, in each of those years. Women represented only 33% and 22% of applicants in those same years. And diverse candidates comprised an even slimmer margin, just 12% and 15% in each of those years.
By 2020, however, WTO's roster of associates had grown in the opposite direction. Thanks to our work with IAALS, and despite the preponderance of white male applicants, men comprised just 45% of active WTO associates, while women comprised 55%. Furthermore, in a heartening confirmation of our efforts, 23% of WTO associates identified as diverse.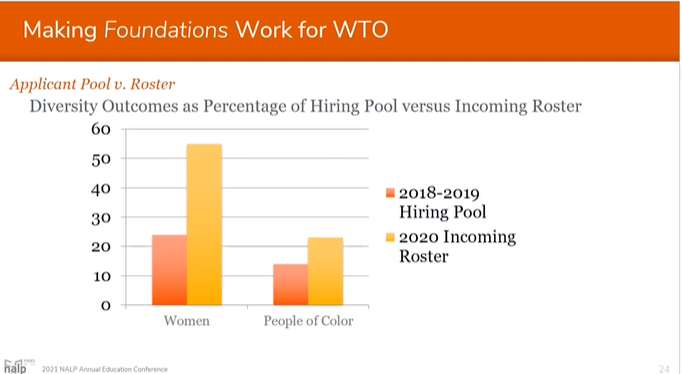 These results drive home for us that the Foundations process is truly helping WTO to increase diversity through its hiring practices.
What's Next? Retention, Retention, Retention.
While we are pleased with the initial hiring results we've achieved with IAALS, we know that if our work stops there, it will be in vain. WTO is taking what we've learned with IAALS and implementing similar practices on the retention side.
Gone are the days of once-yearly reviews, where partners remember only what came most recently. Also gone are the days when a disappointed partner might simply stop working with an associate—without giving any feedback at all. We've established a system to elicit routine, real-time feedback on associates all year long.
For example, when an associate bills 100 hours to a matter, the supervising partner receives a prompt through the time and billing system to respond to several behavior-based questions designed to measure and evaluate how that associate is doing relative to the characteristics we sought when hiring that associate. This gives us a much more complete picture, in real time, of how our new hires are performing, and it accelerates our intervention speed when we see that someone may need help.
Furthermore, in 2019 we established two new roles in the firm. We created a role for a Professional Development Manager, an attorney who oversees associate work assignments and performance to ensure equitability and consistent growth opportunities for associates. And, we created a role for a Diversity & Inclusion Chair, a partner who is working to drive inclusivity and equity at WTO by engaging management, partners, other lawyers, and staff and creating opportunities across all levels to consider what diversity, equity, and inclusion truly look like at WTO—even as we recruit and hire more diverse lawyers into the firm.
After four years and several positive outcomes, we still consider ourselves to be early in our improved hiring journey. But we are encouraged by the interim successes we've seen with IAALS and believe that "the IAALS effect" is real.
Dive Deeper
This guide is for employers who want to improve their hiring practices—to improve quality, retention, and diversity—based on what IAALS has learned from the Foundations for Practice project. The guide is a set of principles and recommendations geared toward hiring candidates suited to excel at an organization— based on that organization's practice, vision, goals, and needs—that can be adapted to the specific objectives and goals of different employers.
Read More