IAALS Releases National Framework for States to Create New Tier of Legal Professionals Who Can Offer More Affordable Legal Help
June 6, 2023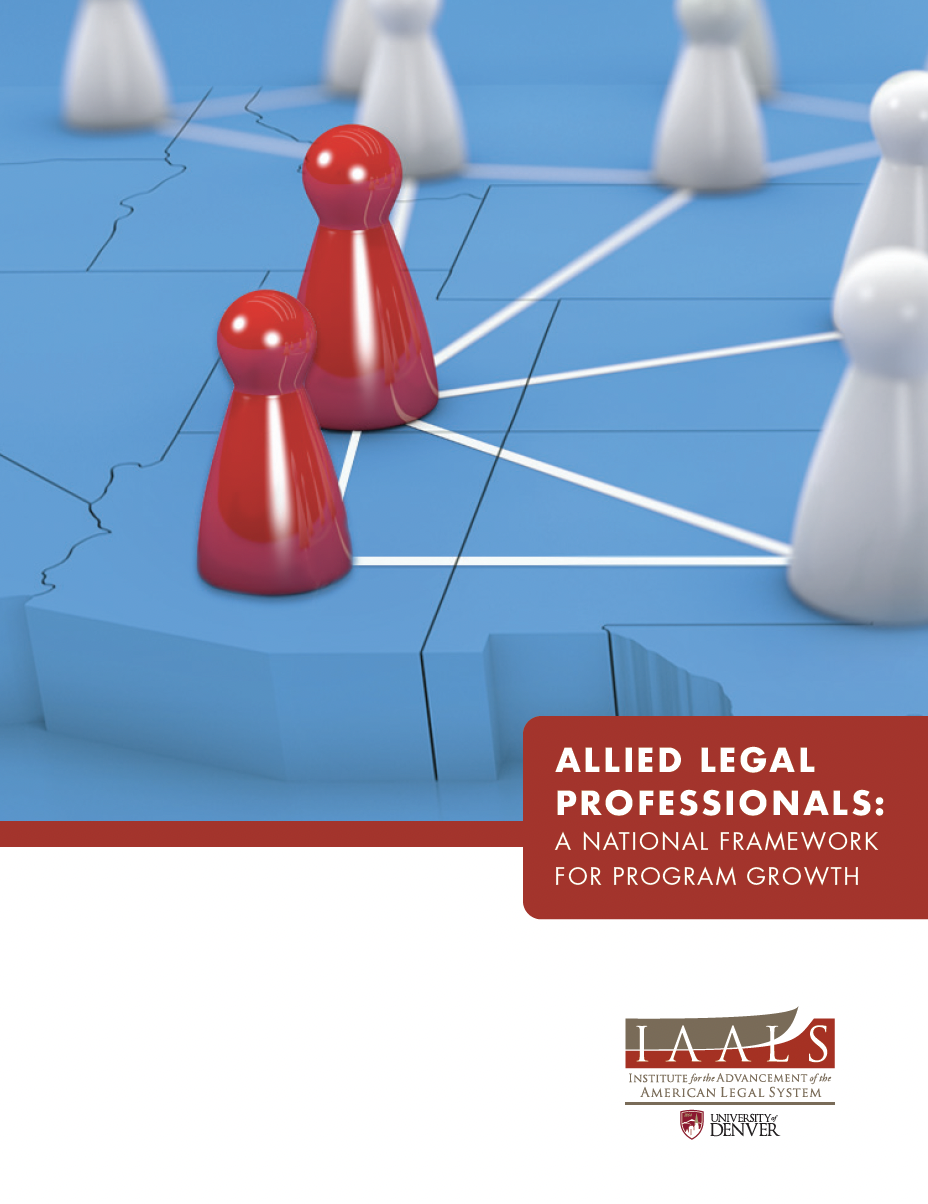 IAALS, the Institute for the Advancement of the American Legal System at the University of Denver, announced today the release of its new report, Allied Legal Professionals: A National Framework for Program Growth. As part of IAALS' Allied Legal Professionals project—which is generously supported by the Sturm Family Foundation—this report includes multiple research-informed recommendations to help standardize a new tier of legal professionals across states, with the goal of increasing the options for accessible and affordable legal help for the public.
"To hire a lawyer, people either need considerable money or have an income low enough to qualify for the limited legal aid available. The problem is that the majority of people in the middle class don't fit into either of those categories, making access to legal services incredibly difficult," says IAALS Director of Special Projects Michael Houlberg. "Even if every lawyer took on pro bono clients, it wouldn't come close to addressing the need. And IAALS' research shows that people who need legal help are open to receiving it from qualified and authorized providers who are not lawyers." 
In early 2022, IAALS launched the Allied Legal Professionals project in response to an increase in state programs creating a new tier of legal service providers who target this gap in legal services—mirroring in many ways how nurse practitioners joined the medical field alongside doctors. These new providers—which collectively IAALS has referred to as allied legal professionals (ALPs)—are being authorized to provide legal advice in certain case types and under certain circumstances. Data from these programs show that ALPs are making a positive impact in people's lives. Well-trained ALPs are competent, their clients are satisfied with their work product, and they can reach a portion of the population that lawyers are not reaching. ALPs are providing high-quality legal services at around half the cost of lawyers.
Paired with the publication of The Landscape of Allied Legal Professional Programs in the United States, a first-of-its-kind review and comparison of existing and planned programs, IAALS hosted a two-day convening in November 2022 on the future of ALP programs. The convening brought together regulatory experts, legal and paralegal educators, representatives from state ALP programs, innovators experimenting with other tiers of legal service providers, access to justice experts, and practicing allied legal professionals. 
"This new report came out of the ALP convening and offers insights and recommendations that are so valuable," says Helen Hierschbiel, Executive Director of the Oregon State Bar and convening attendee. "It summarizes the discussions at the convening, including convergence on best practices, areas of divergence between state approaches, and lessons learned from existing programs."
The report includes:
A look at the broader ecosystem of legal service providers, of which ALPs are a part.
Different stakeholders that have essential voices in creating effective ALP programs. 
High-level and on-the-ground recommendations on the various components of state ALP programs.
"This report represents why the IAALS process is so valuable to legal reform," says IAALS CEO Brittany Kauffman. "In making sure that we included a diverse set of voices in this process, we are able to get key input from a variety of perspectives and develop recommendations informed by all of these different experiences. This inclusive approach yielded otherwise unachievable results—and recommendations that can serve as a strong guide for states considering, implementing, or refining ALP programs."
While there is currently variation among state programs, IAALS' recommendations take into consideration what has worked well and what has not to-date. The national framework notes that complete uniformity is not necessary to achieve success, but uniformity in certain areas of the framework will create an avenue for reciprocity among states and a strong national profession. Areas for particular focus include:
Title: thoughtful decisions on titling these professionals can help ALPs gain widespread recognition as legitimate legal service providers. "Legal Practitioner" is a promising option that warrants further research and consideration, which IAALS is spearheading.
Education and Practical Training: states implementing an ALP program should ensure the education and training requirements are not overly burdensome. Clinics and in-class assignments provide an opportunity for ALPs to fulfill required training hours.
Testing: in developing licensure for ALPs, states should first determine what is needed for minimum competency and then determine how best to measure that, rather than merely replicating the bar exam. 
"The legal profession is failing to protect most people and it is clear that we can no longer rely on lawyers alone to be the answer. We need an ecosystem of legal professionals outside of lawyers, and ALPs are a critical component of narrowing the justice gap," says Houlberg. "As legal service providers that offer similar services as lawyers but at routinely half the cost, ALPs can radically decrease the number of legal consumers that are forced to handle cases on their own. One day in the not-too-distant future, ALPs will exist across the country and be readily known by consumers as a more affordable option for legal help. Until that day, and as states continue to look into and build out their own ALP programs, this report should serve as a guide toward creating the most comprehensive and effective program possible."
Dive Deeper
This report summarizes best practices for allied legal professional (ALP) programs, including 18 high-level recommendations, that can serve as a guide for states considering, implementing, or refining ALP programs.
Read More