Know Your Judges, Vote Your Judges
October 14, 2016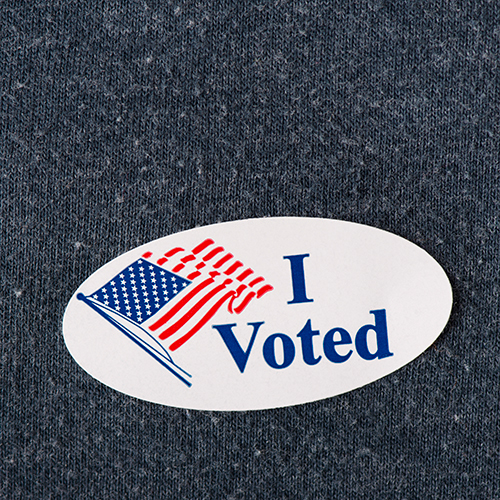 This election year, supreme court justices are on the ballot in 32 states, so chances are they're on the ballot in your state. Yet, voter participation in judicial elections is notoriously low. Research shows that roughly a quarter of those who vote for the President, the governor, and members of Congress and state legislators don't continue down the ballot to vote for judges. The biggest reason for this is a lack of meaningful information about judges and judicial candidates. Think about it—voters are already going to the ballot box or mailing in a ballot, but they don't have the confidence they need to make informed decisions about judges. This is problematic.
IAALS undertook a project earlier this year to address this dearth of information. With our publication Judges Aren't Sexy: Engaging and Educating Voters in a Crowded World, we offered a range of practical recommendations—including communications strategies and assets for social media and a messaging platform—for communicating with judicial voters. A handful of states have put our recommendations into practice for this election cycle.
States that have adopted the O'Connor Judicial Selection Plan for choosing, evaluating, and retaining judges provide voters with the most comprehensive information about the on-the-job performance of sitting judges seeking another term in office—information that is apolitical and not based on how those judges have ruled on hot-button social issues. If you live in Alaska, Arizona, Colorado, Missouri, New Mexico, or Utah, this information is at your fingertips.
In a number of other states, bar associations conduct polls of the most frequent court users—attorneys—about judges on the ballot (and in states with partisan and nonpartisan elections, their challengers) and share that and additional information with voters. Those states include Florida, Illinois, Indiana, Iowa, Minnesota, Nebraska, North Carolina, Ohio, and Wyoming.
A number of civic coalitions and organizations have stepped in to fill the information void as well, in Alabama, Kansas, Maryland, Michigan, Montana, Nevada, New York, North Carolina, Ohio, Oklahoma, Oregon, Texas, and Washington.
Thanks to the efforts of judicial performance evaluation programs, bar associations, and civic organizations around the country, there is no excuse not to #KnowYourJudges #VoteYourJudges in 2016.
Dive Deeper
In collaboration with a political and communications consultant, IAALS identified a range of strategies for communicating Judicial Performance Evaluation results to voters, including coalition building, messaging platforms, and social media.
Read More