North Carolina's 2014 Supreme Court Election Is One to Watch
April 9, 2014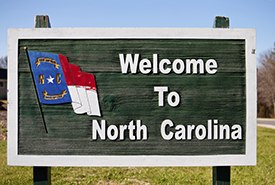 Four of the seven seats on the North Carolina Supreme Court are on the ballot in November. The current ideological balance on the court is 4-3, with a Republican majority, and three of the four seats up for election are currently held by Democrats.
Though the legislature made appellate judicial elections nonpartisan in 2002, the political affiliations of justices and challengers tend to be clear, often based on the sources of their campaign support. Republican Party leaders say the party may take the additional step of endorsing judicial candidates in this year's statewide races.
Commentators anticipate millions of dollars in special interest spending in the coming months.
In 2012, outside groups spent $3.8 million on a single supreme court race, while the candidates themselves opted for public financing and spent an additional $600,000. The $4.4 million in total spending set a state record. Public financing won't be an option this election cycle, as the legislature ended the state's program for appellate judicial elections last summer.
One of the biggest independent spenders on the 2012 race was the conservative N.C. Judicial Coalition. One of their founders describes the 2014 election as "the most important state election in North Carolina" and says the group plans to be "very active."