One Year and 80 Families Later: Celebrating the Success of a New Model for Separation and Divorce
September 3, 2014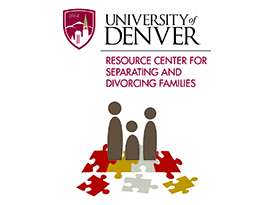 A year ago today, the Resource Center for Separating and Divorcing Families (RCSDF or Resource Center) opened its doors at the University of Denver to serve families in the Denver-metro area. Based on an interdisciplinary out-of-court model developed by the Honoring Families Initiative, the RCSDF was implemented as a pilot project, to test whether this alternative model of helping families through the transition of separation and divorce is effective. As Executive Director, I witnessed the Resource Center open with few families and lots of unknowns, but I am proud to report that a year later we are operating full-force, helping numerous parents transition in a positive and constructive manner that better serves them and their children.
At the Resource Center, we offer legal education, dispute resolution, therapeutic, and financial consultation services. For each of the  80 families and 118 children we have helped to-date, we crafted a service plan, tailored to their needs. With few exceptions, the families have availed themselves of the services we recommended, and we have created a relationship with them that allows us to be a resource well after the legal process is over. As one of our supervisors often tells parents, "divorce is a marathon, not a sprint." It is gratifying to see that many families are returning to the Resource Center after their final orders hearing to seek additional therapeutic services.
The Resource Center is also shaping up to be an incredible resource for the University of Denver. We are a partnership between IAALS, the Graduate School of Professional Psychology, the Graduate School of Social Work, and the Sturm College of Law. While the IAALS out-of-court model does not necessitate a university setting, the experiential learning environment is a core component of the RCSDF. Over the course of the past academic year, 6 law students, 5 graduate social work students, and 3 graduate psychology students have staffed the center. These students have gained invaluable, interdisciplinary experience that has changed their perspective on future roles in their respective careers. We just finished a comprehensive 65 hour interdisciplinary family law seminar that includes extensive mediation training  for the incoming Fall students.
Finally, I am pleased to have witnessed the positive impact that our efforts are having on people's perception of the justice system. The Colorado courts are our close partner in this endeavor. Families are seeing the justice system work for them through our less adversarial, problem-solving approach that includes entry of final orders on their agreements on-site without having to go to court. Retired Judge Robert Hyatt volunteers his time each month to help us provide this service. We have held over 18 final orders hearings to date and parents are responding with sincere appreciation and support for the out-of-court option. Having spent many years working in the courts, I have deep faith in our system. I am delighted to be part of something that is fostering increased public trust and confidence in our courts.
We are undergoing a comprehensive, three-year evaluation that will provide insight into exactly where and how this out-of-court model is making the most impact on participating families. Findings will be available in 2016, and I am optimistic that they will validate the successes I am witnessing every day in our program.
As we move into another year, I owe a debt of gratitude to our partners, supervisors, students, countless individuals, and organizations throughout our community. But above all, I want to thank the parents who have chosen to try our approach. Thank you for allowing us the opportunity to work with you and your children. And, thank you for having faith in us.